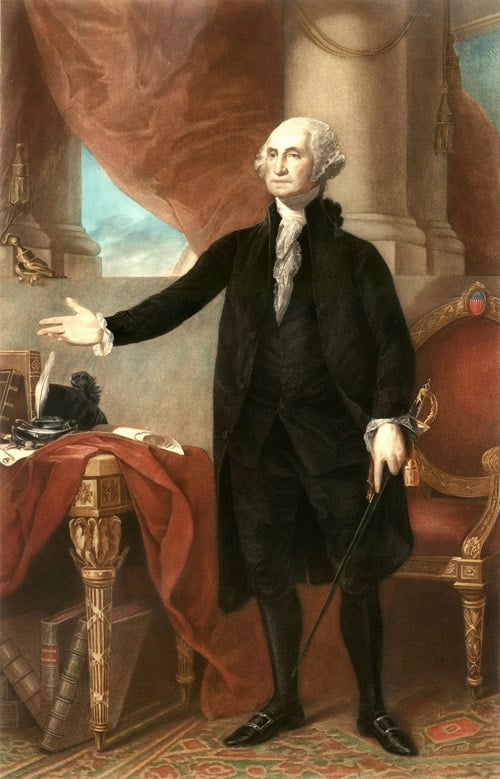 A REMARKABLE MAN AND PRESIDENT - GEORGE WASHINGTON - THE FATHER OF OUR COUNTRY
It was our first president who started the tradition of Official White House China. However, not many people realize that George Washington's quest for the finest quality tableware lead to the establishment of a lucrative new international trade route.
Today, we use the word "china" as a synonym for "dishes," but in George Washington's time, China was the source of exquisite, hand-painted porcelain prized by the upper classes in Europe as well as in the American colonies. Porcelain was exported from China to Europe, and from there it was traded to the colonies.
In 1783, George Washington and General Henry Knox formed the Society of Cincinnati, an organization exclusively for French and American officers who had fought in the Revolutionary War (and, later, their descendants). One of the organization's first orders of business was to design a china pattern befitting such a Society.
Unfortunately, the colonies' trading ability disintegrated in the 1770s as relations with Britain collapsed. And when America finally attained its independence after the Revolutionary War, the British retaliated by prohibiting key trade hubs from doing business the United States. President Washington and his associates were left to find alternatives to maintain and grow the new nation's economy. That included finding a way to gain direct access to highly-desired Chinese porcelain.
Major Samuel Shaw, another Revolutionary War veteran and former aide to General Knox, envisioned the opportunities that could come if America were able to trade directly with China, to import not only luxuries like beautiful porcelain but a variety of necessary everyday commodities. Tea was in short supply, among other things, because trade was no longer possible with the British West Indies.
Toward that end, a ship christened the Empress of China left New York City in 1784, headed for Canton (modern-day Guangzhou). It was Samuel Shaw who transported the Society of Cincinnati's desired design to Chinese artists so they could produce the "Cincinnati dinnerware."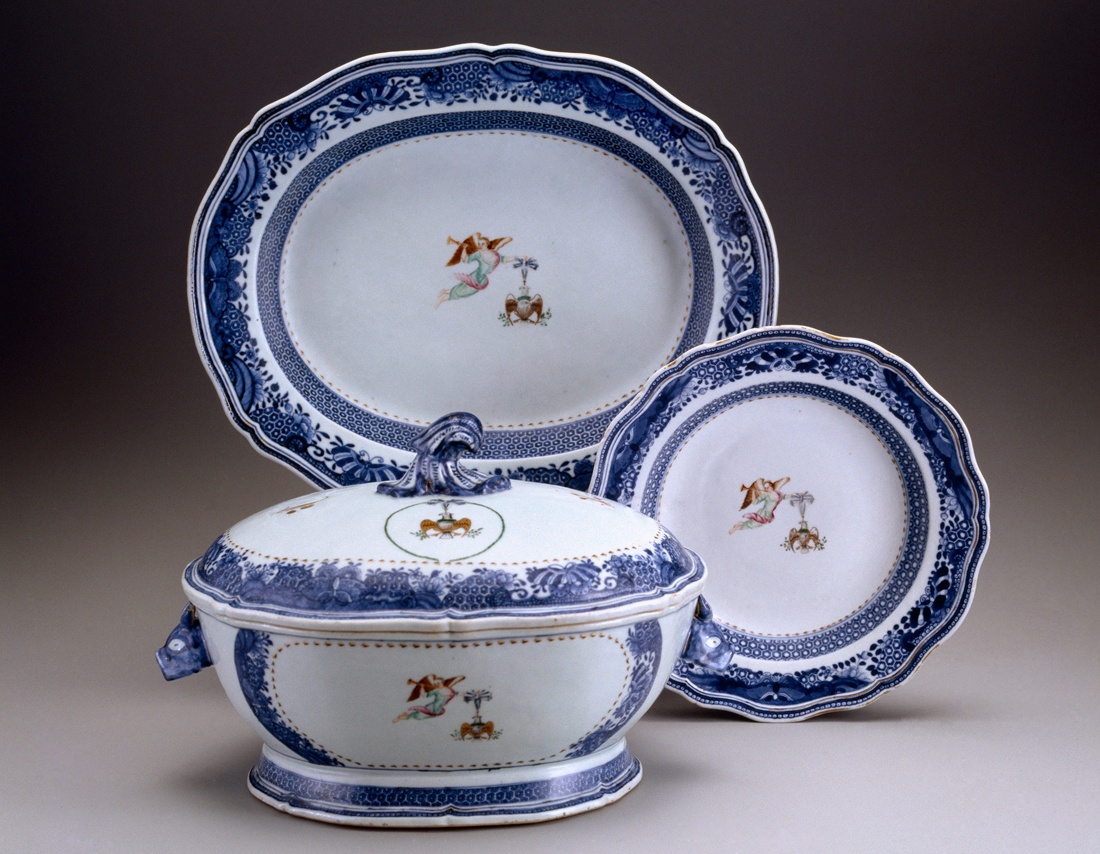 1785 CHINESE PORCELAIN DINNERWARE WITH THE EMBLEM OF THE SOCIETY OF CINCINNATI
The ship returned from China the following year, under the command of then-Captain Samuel Shaw, carrying Chinese textiles, cinnamon, tea and approximately 64 tons of porcelain – including the new Society of Cincinnati dinnerware. Trade between the United States and China was officially underway. Within five years, 28 American ships had visited Canton.
And what did the Empress of China deliver to the Chinese to launch the trading process? Ginseng -- 30 tons of it, mostly from the southern Appalachian mountains. It was the one American product would-be traders knew for certain would be well-received by the Chinese, because over-harvesting had virtually eradicated China's own native ginseng.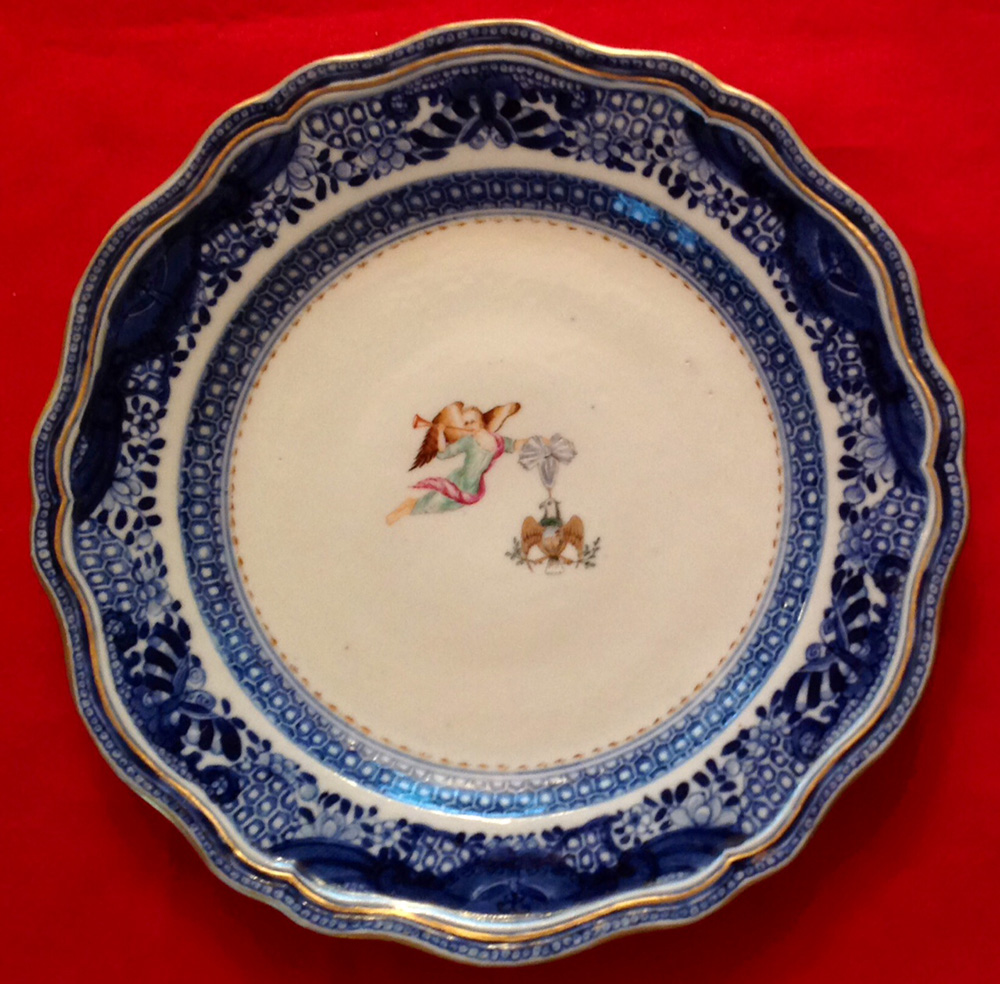 GEORGE WASHINGTON'S - 9 5/8" DINNER PLATE - IN NEAR PRISTINE CONDITION - ONE OF TWO FROM THE RALEIGH DeGEER AMYX COLLECTION
And the rest is history. The china created for the Society of Cincinnati ultimately became the original Official White House China. George Washington personally used this dinnerware to entertain friends and dignitaries at his homes in New York City, Philadelphia and Mount Vernon. And today, this lovely china remains historically important as one of the earliest Chinese porcelains made specifically for the American trade.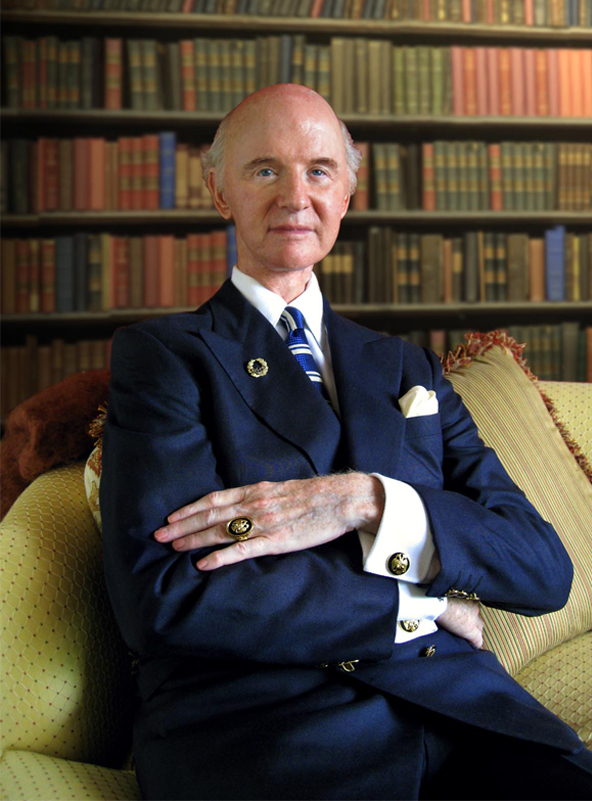 RALEIGH DeGEER AMYX - HISTORIAN & COLLECTOR
World renowned collector Raleigh DeGeer Amyx has acquired a remarkable number of quality pieces of official White House china. Mr. Amyx's passion for American historical artifacts has been his sole focus for more than three decades. Mr. Amyx's collection is the largest privately-owned collection of extremely high-quality, as well as the rarest, Official White House China in the world. If you would like to engage in a discussion with Mr. Amyx about White House China, please contact him through the button below.