EXTRAORDINARILY RARE RONALD REAGAN 1981 OFFICIAL WHITE HOUSE CHINA DESSERT PLATE - AT LAST, PART OF THE RALEIGH DeGEER AMYX COLLECTION
Ask Raleigh DeGeer Amyx what makes a particular piece of Official White House China rare, and he'll tell you about availability. The fewer the number of pieces available, the rarer they are. Not surprisingly, the oldest examples of Official Presidential China are usually the rarest. There weren't many pieces produced originally, and now - two centuries or so later - few of those still exist.
Within any set of porcelain, there are far fewer service plates than place settings. So service plates, by nature, are usually rarest. They are also the largest plates, and in the case of Official White House China, service plates are typically "standard bearers" when it comes to design and decoration. So service plates have multiple value to collectors of Official White House China. These are the pieces that newer collectors and those with less extensive collections focus on first.
What really makes the Reagan dessert plate so rare, is that it has its own unique and elegant design. Usually, the dessert plate is just a smaller version of the dinner plate, but in this case, the Reagans went above and beyond with their impeccable taste in china. Thus the Reagan dessert plate is rarer than the serivce plate and all other pieces in the set.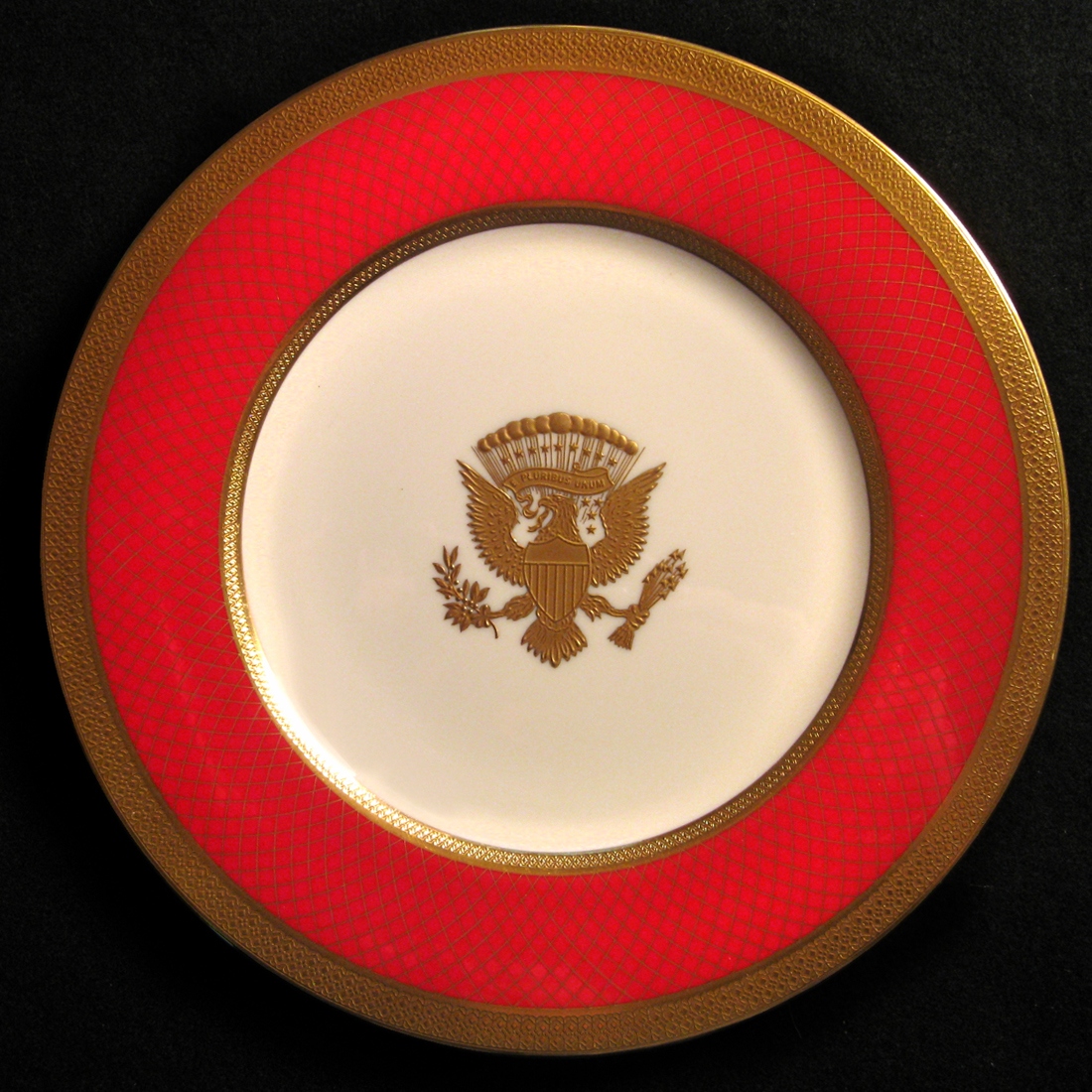 IMPECCABLE REAGAN 1981 OFFICIAL WHITE HOUSE CHINA SCARLET RED STATE DINNER SERVICE PLATE - PART OF THE RAEIGH DeGEER AMYX COLLECTION
Even so, a collector may wait 10 or 15 years before securing the service plate they want. It's not surprising they aren't even thinking about dessert plates. Also, dessert plates don't necessarily have any special aesthetic cache, since they are often simply smaller versions of the service plates. Mr. Amyx was especially keen on the Reagan dessert plate because its design is very different.
But why does he describe this dessert plate as extremely rare? Because there is another factor that affects availability. When people contact Mr. Amyx looking to sell a piece of White House China, it is typically a service plate they are offering. It rarely occurs to individuals who own historic pieces that their dessert plate may be valuable to someone else.
HANDSOME REAGAN 1983 UNOFFICIAL WHITE HOUSE CHINA SERVICE PLATE - DESIGNATED AS EVERYDAY CHINA, NEVER TO BE USED FOR OFFICIAL STATE DINNERS - PART OF THE RALEIGH DeGEER AMYX COLLECTION
Only an advanced collector, says Mr. Amyx, would recognize the value of searching for a dessert plate after they have already acquired the most-desirable service plate. You might go years and hope to see a dessert plate, he says. You keep your eye out month after month, year after year, or, as in the case of Mr. Amyx, even decade after decade.
VERSO MARKING THAT WOULD APPEAR ON EACH PIECE OF THE 1981 RONALD REAGAN OFFICIAL WHITE HOUSE CHINA
And so after 30 years of watching and waiting, Raleigh DeGeer Amyx finally found a Reagan dessert plate available via an auction house in Dallas. He arranged to participate in the bidding by phone. That's nerve-wracking, he notes, because you're competing against other bidders who may have sent in a written bid or who may be there in person or connected online, where they can actually see the auctioneer. On the phone, you're at the mercy of the person on the other end of the line. And you have just a split-second to offer your next bid. On average, an item at auction is sold within 60 seconds.
EXAMPLES OF OTHER PIECES FROM THE 1981 REAGAN OFFICIAL WHITE HOUSE CHINA. ONLY THE SERVICE PLATE AND THE DESSERT PLATE DISPLAY THE ELEGANT GOLD LATTICE DESIGN ON THE WIDE RED BORDER
This time, Mr. Amyx prevailed. He could hardly wait to receive the piece, and he is proud that the stunning Reagan dessert plate now resides within his exceptional collection of Official White House China.
RALEIGH DeGEER AMYX - IMPOSING HISTORIAN & COLLECTOR
Distinguished historian and collector Raleigh DeGeer Amyx has acquired a remarkable number of scarce or rare pieces of official White House China. Mr. Amyx's passion for American historical artifacts has been his sole focus for nearly 40 years. Mr. Amyx's collection is the largest privately-owned collection of extremely high-quality, as well as the rarest, Official White House China and Presidential China in the world. If you would like to engage in a discussion with Mr. Amyx about White House China, please contact him through the button below.