THE OVAL OFFICE DURING PRESIDENT WILLIAM JEFFERSON CLINTON'S TERM
Being one of the nation's most prominent collectors of Official White House China can have its advantages. Raleigh DeGeer Amyx has his ear to the ground, so to speak, and has developed connections that can lead to amazing acquisitions. People come to him offering to sell examples of Presidential porcelain that have come into their possession one way or another.
Sometimes the pieces are of interest, sometimes not, but occasionally there is something entirely unexpected. A fortunate find, you might say. And so it happened that, toward the end of 2016, Mr. Amyx was able to acquire a select treasure – a service plate from President Bill Clinton's Oval Office China Collection.
But wait . . . what is Oval Office China?
WILLIAM JEFFERSON CLINTON
43RD PRESIDENT - 1993 TO 2001
Most Americans have no idea that the President has a choice of official dining rooms in which to eat during his long and busy days. We know the First Family has a private dining room in their own quarters. And we know there is a State Dining Room for hosting foreign dignitaries and other official guests on formal occasions.
BILL CLINTON OFFICIAL WHITE HOUSE CHINA SERVICE PLATE - THE NORTH FRONT OF THE WHITE HOUSE IS FEATURED IN THE CENTER OF THE PLATE TO CELEBRATE THE 200TH ANNIVERSARY OF THE WHITE HOUSE - PART OF THE RALEIGH DeGEER AMYX COLLECTION
SEE MORE WHITE HOUSE CHINA HERE
However, sometimes the President just wants to eat alone for a few moments of peace and quiet, or to hold a working breakfast or lunch with a few Cabinet members, key staff, or Congressional leaders. For those occasions, there is a more intimate space called the Oval Office Dining Room. The room is also known as the President's West Wing study, because many chief executives have used the space to study notes, work on speeches, or watch the news on TV. And like many of us with over-booked schedules, they find themselves eating and working at the same time.
ELEGANT CLINTON WHITE HOUSE CHINA DESSERT PLATE WITH THE WHITE HOUSE IN THE 12 O'CLOCK POSITION - PART OF THE RALEIGH DeGEER AMYX COLLECTION
The china used to serve meals here is not the same as that used for official State dinners. Nonetheless, it qualifies as Official White House China, because it is used by the sitting President, in the White House.
Mr. Amyx explains that sometime in the 1980s or 90s, the "powers that be" decided to have special china just for the Oval Office Dining Room. This private space seats just a few people -- no more than 8 or 12 with the table fully expanded – so it is easy to believe that the china service used here is produced in very small quantities, although there is no official information available about this.
STUNNING BILL CLINTON OVAL OFFICE CHINA PLATE - PART OF THE RALEIGH DeGEER AMYX COLLECTION
The Clinton service plate looks like White House China from the Reagan administration, with a wide lattice border inside a gold rim and a gold Presidential insignia in the center. However, the Clinton plate features a Presidential blue color instead of the red favored by the Reagans. It is 12" in diameter, with verso markings that include the Lenox hallmark, President Clinton's initials (W.J.C.), and the words "1998 Oval Office."
REAGAN CUP FEATURING THE "R.W.R." - A SIMILAR VERSO WOULD APPEAR ON THE CLINTON OVAL OFFICE CHINA (WITH A THIN BLUE LINE INSTEAD OF RED) WITH "W.J.C." AND "1998 OVAL OFFICE" - THE RALEIGH DeGEER AMYX COLLECTION
"You could postulate that the Reagan Service Plate would have looked like Clinton's," suggests Mr. Amyx, "but with the initials R.W.R. on the back."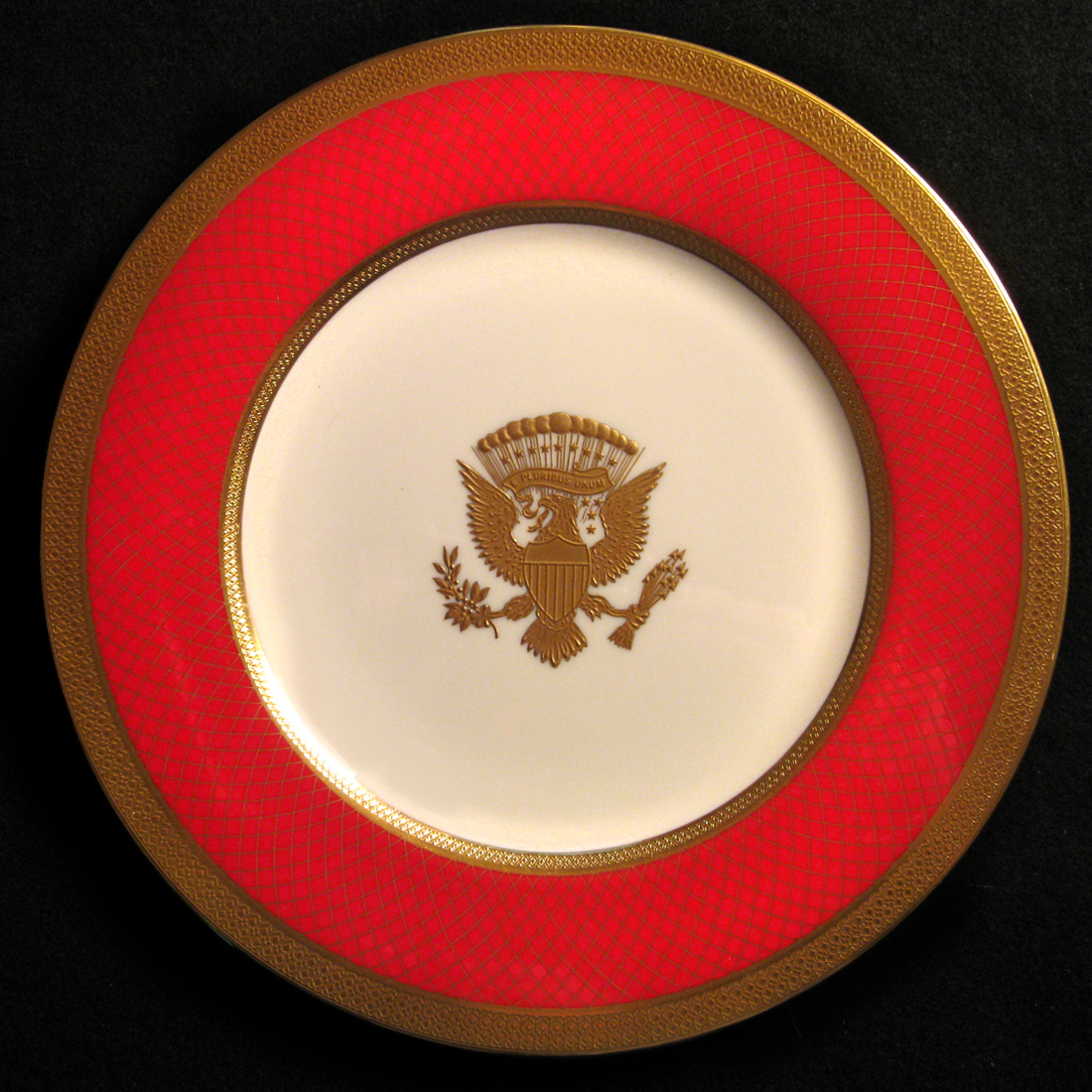 GORGEOUS RONALD REAGAN OFFICIAL WHITE HOUSE CHINA STATE DINNER SERVICE PLATE FEATURES THE SAME GOLD PRESIDENTIAL EMBLEM IN THE CENTER OF THE PLATE AND A LOVELY GOLD LATTICE BORDER WITH A RED ACCENT INSTEAD OF BLUE
Mr. Amyx also owns Oval Office coffee cups from both the Reagan and Clinton collections. These are informal mugs rather than cups with saucers. The cups are decorated to match the service plates, with a gold rim and thin colored line (blue for Clinton, red for Reagan). The Presidential insignia appears on the side in gold. Both cups carry the same verso markings: the Lenox hallmark and the President's initials.
Just as private individuals want to sell special pieces to Raleigh DeGeer Amyx, other collectors sometimes want to purchase an item from his famous collection. In the case of his Clinton Oval Office service plate, Mr. Amyx reveals he has been offered far more than he paid for the piece, but he holds out. It's not the money, he explains. He simply prefers not to sell pieces unless he has another one in his collection. "It is too hard to find something that important and beautiful in the first place."
RALEIGH DeGEER AMYX - HISTORIAN & COLLECTOR
Distinguished historian and collector Raleigh DeGeer Amyx has acquired a remarkable number of scarce or rare pieces of official White House China. Mr. Amyx's passion for American historical artifacts has been his sole focus for nearly 40 years. Mr. Amyx's collection is the largest privately-owned collection of extremely high-quality, as well as the rarest, Official White House China and Presidential China in the world. If you would like to engage in a discussion with Mr. Amyx about White House China, please contact him through the button below.