ELEGANT 1786 GEORGE WASHINGTON OFFICIAL PRESIDENTIAL CHINA PLATE IN NEAR PRISTINE CONDITION - PART OF THE RALEIGH DeGEER AMYX COLLECTION
There are certain criteria that collectors generally use to describe the condition of a particular item. However, renowned White House China collector Raleigh DeGeer Amyx says he prefers to be more definitive.
In Mr. Amyx's parlance, "perfect" means pristine or near pristine; because he acknowledges that perfection is in the eye of the beholder. "Excellent or overall fine" means the piece has a minor imperfection that does not detract from its overall appearance. From three feet away or so, the tiny imperfection would likely go unnoticed by most people. Beyond these two definitions, Mr. Amyx describes any particular condition issues on a piece-by-piece basis.
STUNNING 1846 JAMES K. POLK OFFICIAL WHITE HOUSE CHINA DESSERT PLATE IN NEAR PRISTINE CONDITION - PART OF THE RALEIGH DeGEER AMYX COLLECTION
When a potential buyer or seller contacts Mr. Amyx about a specific piece of Official White House China, sending a photo of the item, along with notation of any potential condition issues, including size and location would be helpful. For example, Mr. Amyx might note "minor imperfection at 6 o'clock" and provide a description such as – a tiny chip at the edge of the porcelain, or loss of paint in the design.
Collecting is, in part at least, the art of negotiation. "When you go to sell or trade a piece," Mr. Amyx reveals, "the 'opposition' naturally wants to find flaws, so as to negotiate a lower price." As a long-term, experienced collector of Official White House China, Mr. Amyx does not purchase or sell pieces that are not pristine or near pristine. You'll pay more, he admits, but the item won't have condition problems that will require little or no explanation.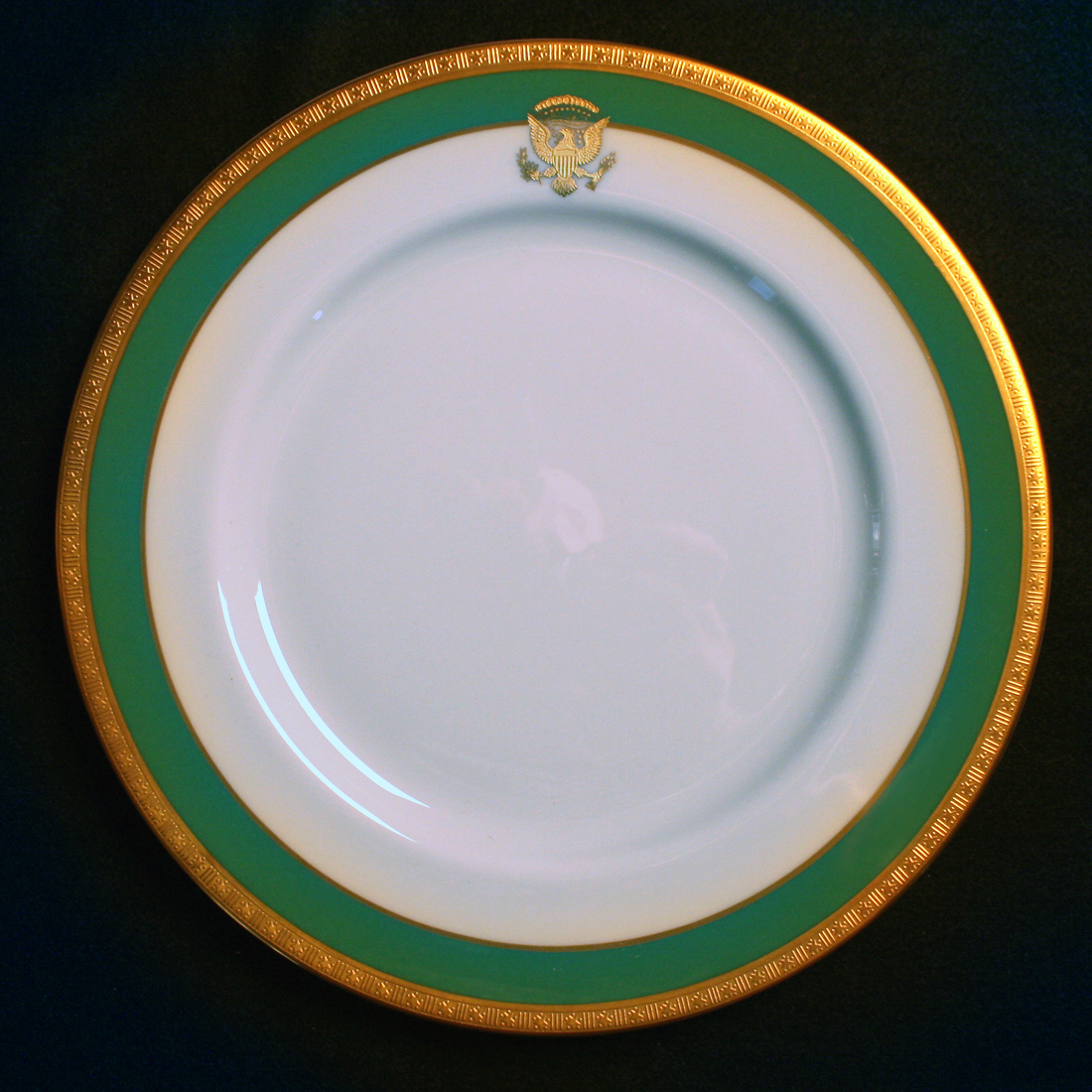 RARE 1868 ROSE MEDALLION COVERED DISH/SAUCIER FROM THE ULYSSES S. GRANT PRESIDENTIAL CHINA - PART OF THE RALEIGH DeGEER AMYX COLLECTION
Besides, when it comes to White House China, perceived value comes from more than physical condition. Most collectors feel an affinity for the items they collect – the type of item, or perhaps the individual piece. For Mr. Amyx, the connection is personal. "Multiple Presidents usually used this porcelain. They put food on it, and used it repeatedly." The china is more than an artifact that existed in the White House.
In the case of White House China, the particular design might also affect its appeal. "Artwork shouldn't matter," says Mr. Amyx, "but it probably does affect impulsiveness." If he thinks an item is more beautiful, Mr. Amyx may feel it's more desirable and therefore be more inclined to buy it.
VERSO FROM A 1968 LYNDON B. JOHNSON OFFICIAL WHITE HOUSE CHINA PLATE - PART OF THE RALEIGH DeGEER AMYX COLLECTION
Although we typically think of problems on the face of a plate that might affect condition, the back of a plate (or underside of a cup or bowl) may also have defects. There may be a chip underneath the rim, where it is not visible from the front. Or there may be minor damage to the base (the circular footing on the underside of the porcelain) that doesn't affect the piece's stability. But there is also another issue which may concern some prospective collectors -- a partial or missing stamped verso mark.
"Most bidders at an auction will have less experience with stamped markings," Mr. Amyx notes, "and are therefore reluctant to bid higher on an item that has this perceived imperfection." In the early 1800s, White House China, such as that produced for James Monroe carried trademarks that were applied by hand with a rubber stamp or stencil, then over glazed. But rubber stamps/stencils sometimes produced uneven marks, and they also wear out, so only traces of the trademark may appear on the verso, or nothing at all.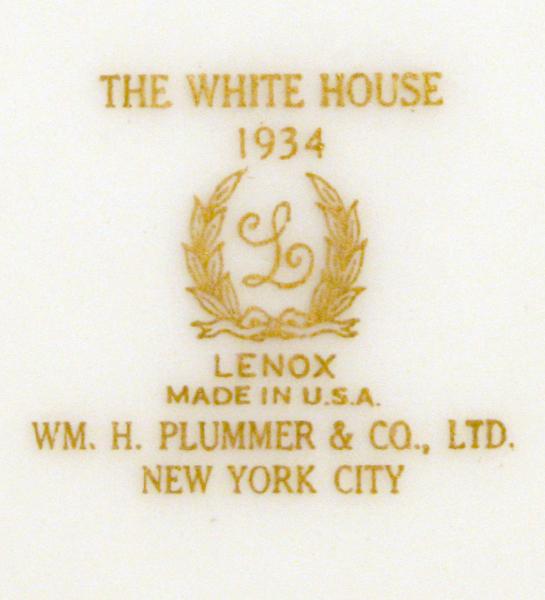 VERSO ON 1934 FRANKLIN D. ROOSEVELT OFFICIAL WHITE HOUSE CHINA PLATE - PART OF THE RALEIGH DeGEER AMYX COLLECTION
The White House's Official China book always shows plates with perfect stamps, but Mr. Amyx says a less-than-perfect stamp shouldn't detract from the value. In fact, most of the older Presidential pieces do not have perfect stamp marks on the verso.
All that said, there is a type of trademark imperfection which does detract from the value. In the last 100 years or so, manufacturers such as Lenox have used decals to apply trademarks. For Official White House China, the trademarks include the words "White House" and the date. However, workers can be interrupted or distracted, forgetting to apply the decal, or a portion of the decal. This omission materially affects "condition" because it is a mistake that should have been caught at the factory before the porcelain was ever shipped.
RALEIGH DeGEER AMYX - HISTORIAN AND COLLECTOR
World renowned collector Raleigh DeGeer Amyx has acquired a remarkable number of scarce or rare pieces of official White House China. Mr. Amyx's passion for American historical artifacts has been his sole focus for nearly 40 years. Mr. Amyx's collection is the largest privately-owned collection of extremely high-quality, as well as the rarest, Official White House China and Presidential China in the world. If you would like to engage in a discussion with Mr. Amyx about White House China, please contact him through the button below.