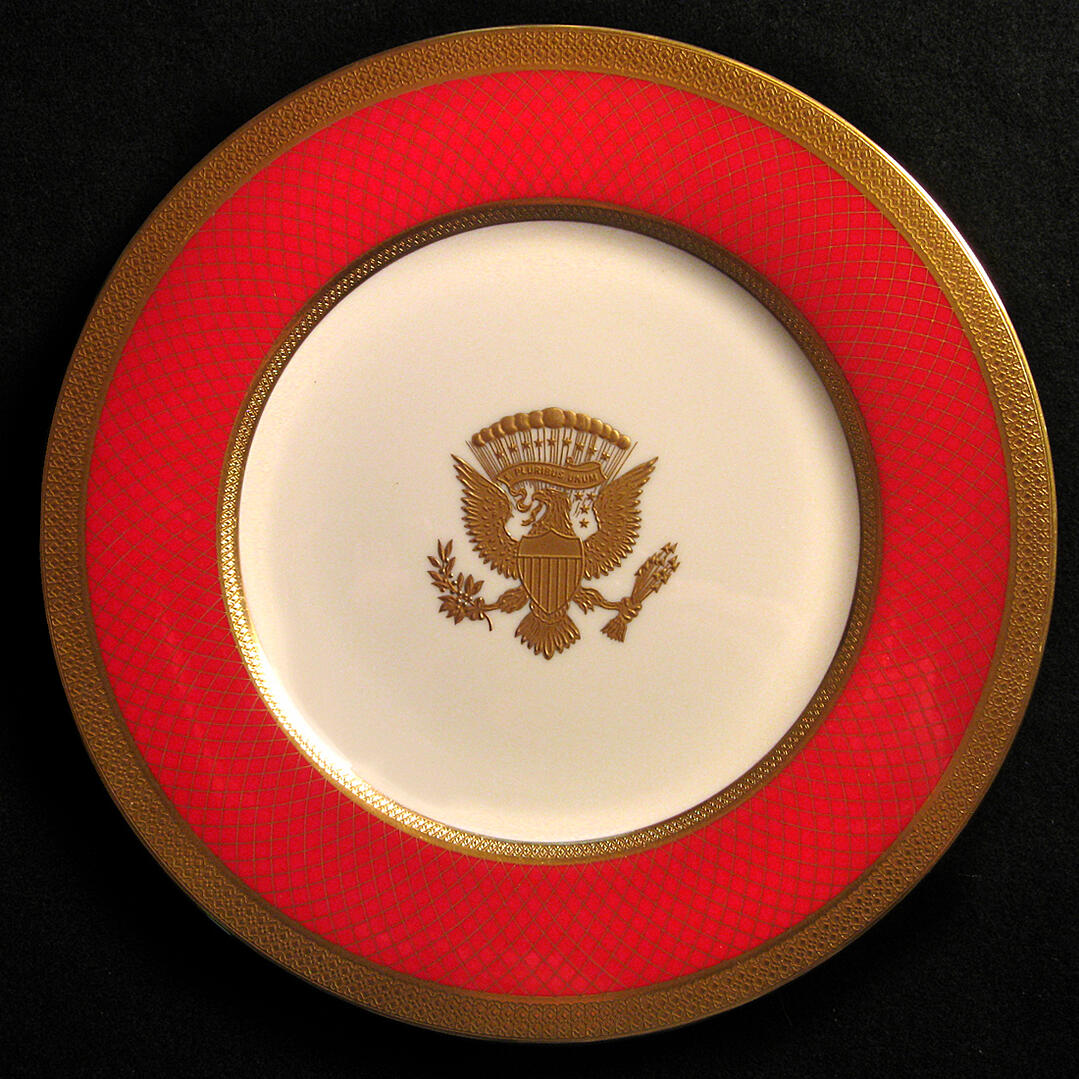 STUNNING 1981 RONALD REAGAN OFFICIAL WHITE HOUSE CHINA PLATE IN NEAR PRISTINE CONDITION - MANUFACTURED BY LENOX - PART OF THE RALEIGH DeGEER AMYX COLLECTION
When you peruse our website, you're bound to see numerous references to Official White House China. Many Presidents and First Ladies have ordered a specially-designed porcelain service to be used for official purposes. It is an enduring part of each administration's legacy. However, there is also such a thing as "unofficial" White House China. So what is the difference?
To be considered Official, Presidential china must meet two criteria:
1. It must have been used during the President's term for official state dinners held to host foreign dignitaries.
2. It must have been used in the White House.
In the course of performing their job as Chief Executive, sitting Presidents of the United States eat thousands of meals, both in the White House and elsewhere. The President often stays and works at Camp David, accompanied by staff but also family members and/or guests who may even be foreign dignitaries. The President travels on Air Force One, which has its own sets of unofficial china service. Earlier in the 20th century, the President had an official yacht - with a separate unofficial china service - at his disposal for personal leisure or entertaining guests.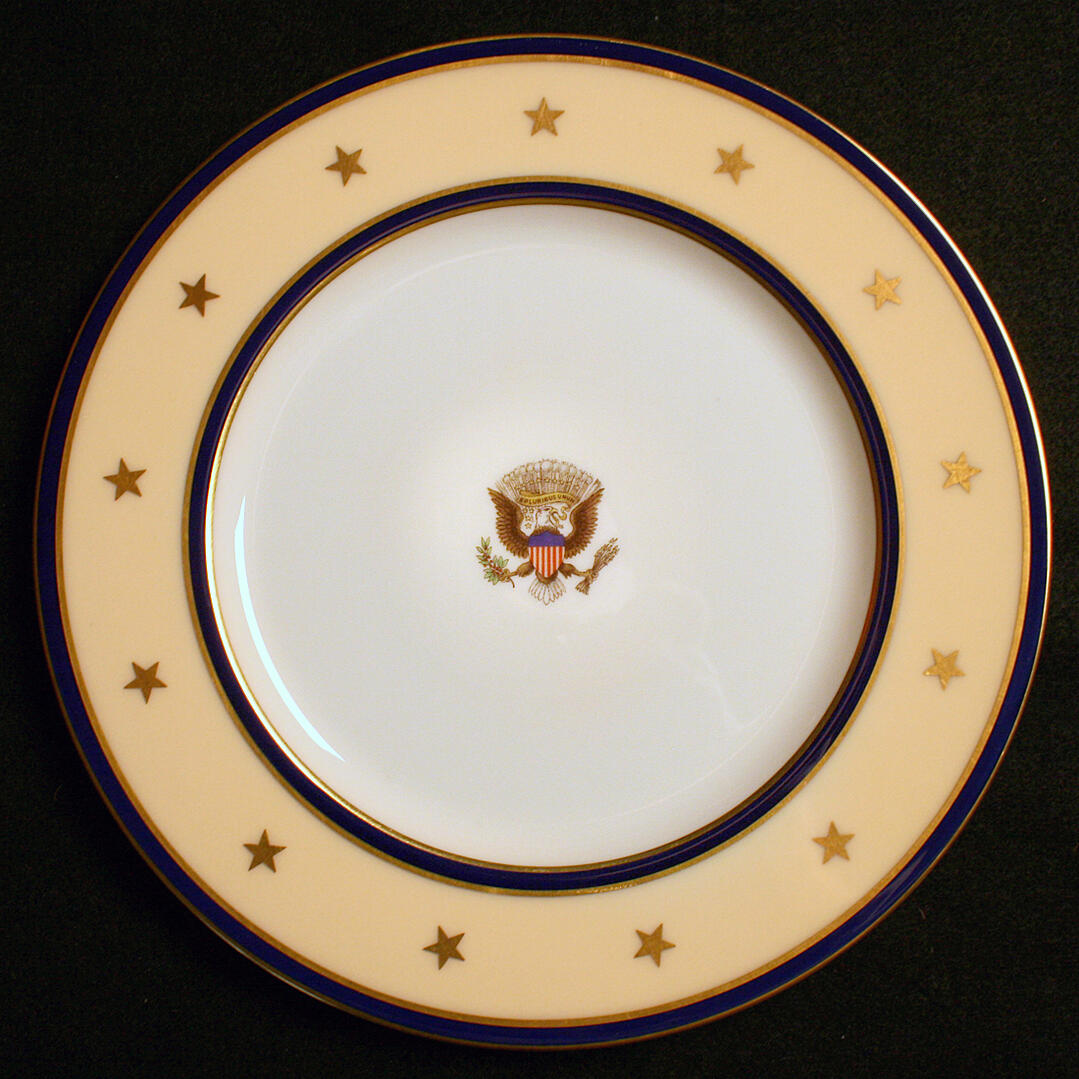 LOVELY LENOX SERVICE PLATE FROM UNOFFICIAL WHITE HOUSE CHINA ORDERED BY FRANKLIN D. ROOSEVELT SPECIFICALLY FOR THE PRESIDENTIAL YACHT, THE USS WILLIAMSBURG - PART OF THE RALEIGH DeGEER AMYX COLLECTION
All of these are what we might call Official Presidential settings, so the porcelain used on any of them could be considered Presidential china. But none of these other locations is the actual White House, so the china does not quality as Official White House China.
CLASSIC AIR FORCE ONE CHINA CUP AND SAUCER - UNOFFICIAL WHITE HOUSE CHINA - PERHAPS SELECTED BY PRESIDENT JOHN F. KENNEDY AND FIRST LADY JACQUELINE BOUVIER KENNEDY
Even within the Executive Mansion, there are multiple sets of china. The Official service is not generally considered everyday china, although Presidents may use these pieces at any time, for any meal, formal or informal. Many Presidents and their First Ladies have ordered entirely separate dinnerware specifically for less formal occasions such as family dinners or lunch with friends. These collections are Presidential china, but not Official White House China.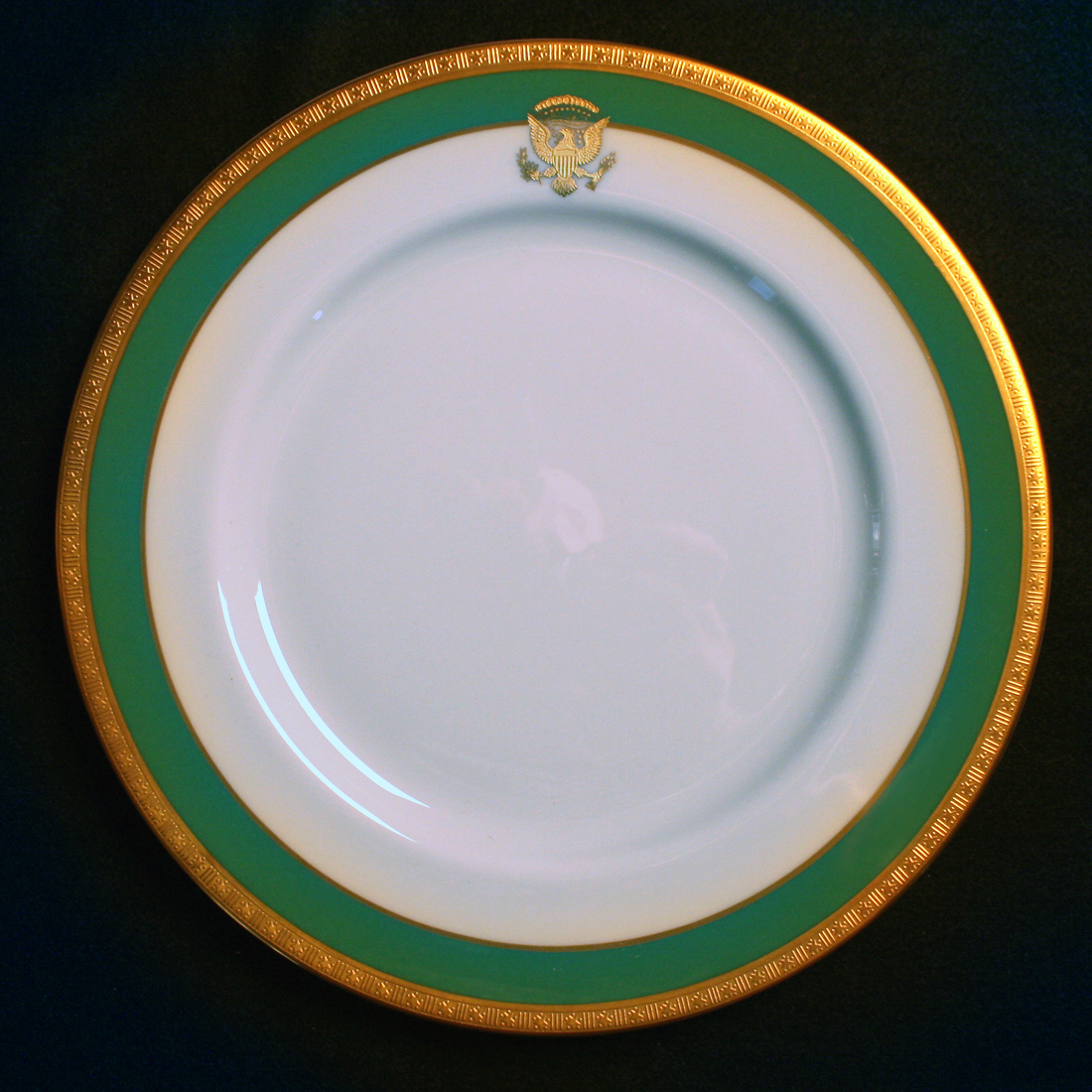 HANDSOME 1983 RONALD REAGAN UNOFFICIAL WHITE HOUSE CHINA PLATE - SELECTED FOR EVERYDAY USE IN THE WHITE HOUSE, BUT NEVER USED FOR OFFICIAL STATE DINNERS - MFG. BY FITZ & FLOYD - PART OF THE RALEIGH DeGEER AMYX COLLECTION
In other words, the porcelain may be Presidential, but if it wasn't used by the President in the White House, for state dinners, it's not Official.
Nonetheless, there are a couple of exceptions to this rule. During the time of our earliest Presidents – George Washington and James Madison – there was no White House. Our first Chief Executives had to supply their own china. Today, the few remaining pieces from those collections are considered Official White House China because they were used by the then-President at their official executive residence for such things as official state dinners.
ELEGANT GEORGE WASHINGTON PLATE - NEVER USED IN THE WHITE HOUSE, BUT STILL CLASSIFIED AS OFFICIAL WHITE HOUSE CHINA - PART OF THE RALEIGH DeGEER AMYX COLLECTION
Ultimately, it is the White House Curator who decides which china qualifies as Official, based on presidential usage for official state dinner occasions. The White House even publishes a book that depicts official porcelain from each administration. However, perhaps the best way to learn about Presidential china is to study our website. Mr. Raleigh DeGeer Amyx is not only passionate about the extraordinary artistry seen in these unique pieces, he is a longtime student of U.S. Presidential history and the fine details that distinguish Official from Unofficial White House China.
OFFICIAL WHITE HOUSE CHINA BOOK, PUBLISHED BY THE WHITE HOUSE HISTORICAL ASSOCIATION, IS CONSIDERED BY RALEIGH DeGEER AMYX TO BE THE BIBLE FOR EXPERIENCED WHITE HOUSE CHINA COLLECTORS
RALEIGH DeGEER AMYX - HISTORIAN AND COLLECTOR
World renowned collector Raleigh DeGeer Amyx has acquired a remarkable number of scarce or rare pieces of official White House China. Mr. Amyx's passion for American historical artifacts has been his sole focus for nearly 40 years. Mr. Amyx's collection is the largest privately-owned collection of extremely high-quality, as well as the rarest, Official White House China and Presidential China in the world. If you would like to engage in a discussion with Mr. Amyx about White House China, please contact him through the button below.