RARE GEORGE WASHINGTON OFFICIAL WHITE HOUSE PLATE - PART OF THE RALEIGH DeGEER AMYX COLLECTION
Originally, the tradition of Official White House China did not begin with our first president, George Washington. Sometime later, it was determined that George Washington's China qualified to be classified as White House China, even though there was no White House during his Presidency.
The United States was a brand new country, so there were no "presidential provisions." In fact, the first United States capital was New York, then later it was Philadelphia. Most of the furnishings used by the President during this time, including china, were from his personal belongings.
However, President Washington did select what would become Washington, D.C. as the official government seat. He also chose the exterior design of the President's House, now known as The White House. Even after the official Presidential mansion was completed, though, Presidents continued to supply their own furnishings, because there were no government funds to pay for such things.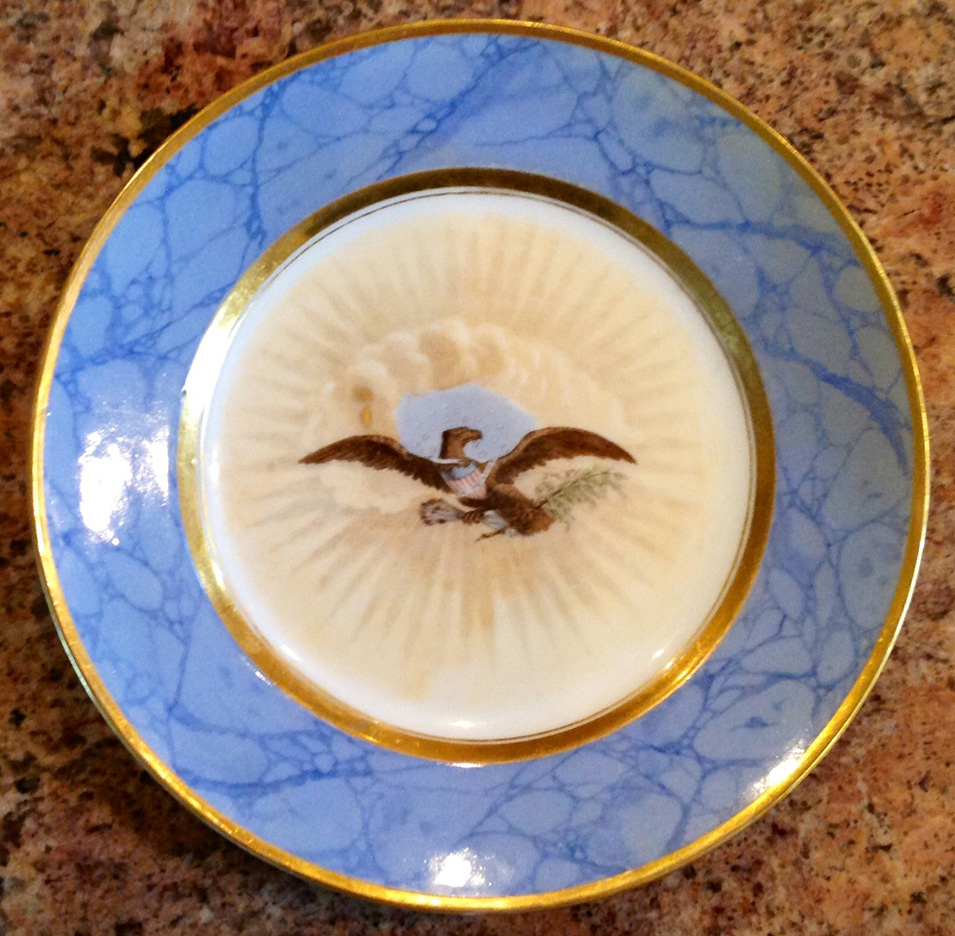 ELEGANT JAMES MONROE OFFICIAL WHITE HOUSE CHINA DESSERT PLATE - MANUFACTURED BY DAGOTY & HONORE - PART OF THE RALEIGH DeGEER AMYX COLLECTION
It wasn't until the inauguration of our fifth President, James Monroe, that we saw the genesis of Official White House China. Right away, Monroe obtained Congressional approval to establish a separate fund to furnish The White House. This was 1817, and perhaps Congress was especially willing to set aside money for furnishing the mansion, as The White House and its contents had been ravaged by fire in 1814 during the British burning of the Executive Mansion. Among the furnishings Monroe chose was a set of china. The collection included 30 place settings plus a matching dessert service.
Everything Monroe purchased came from France. Before becoming President, Monroe served two terms as America's Minister to France, so he had lived there for eight years. It's easy to imagine that during that time he came to appreciate and be influenced by the fine things he saw in Paris. In those years, Paris was a highly sophisticated city that may have counted as many as a million residents. Back home in the United States, it would have been hard to find a town with even 100,000 people, and most were far smaller. So bringing fine quality furnishings and porcelain from Paris was Presidentially appropriate.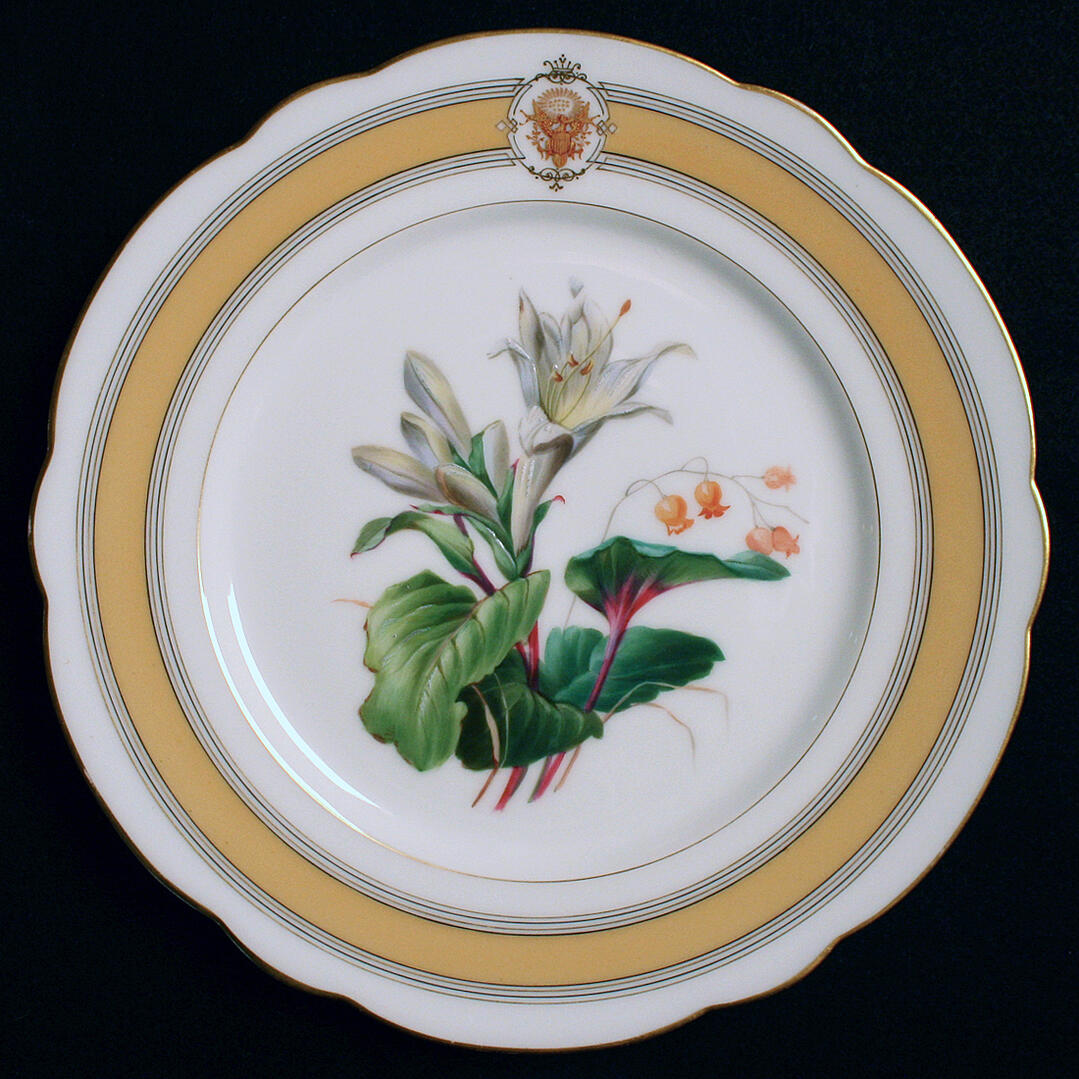 STUNNING HAND-PAINTED ULYSSES S GRANT OFFICIAL WHITE HOUSE CHINA DINNER PLATE - MANUFACTURED BY HAVILAND & COMPANY - PART OF THE RALEIGH DeGEER AMYX COLLECTION
The china that was designed for President Monroe features an eagle with its wings spread, the first time this motif was used as a Presidential "crest." So Monroe's china set a precedent in this regard as well. This porcelain is so beautiful that, even today, renowned collector Raleigh DeGeer Amyx considers it to be the most beautiful Official White House China ever.
Some of the furnishings purchased by James Monroe are still in use today. And thanks to the precedent he set, the tradition of Official White House China continues today. There is a financial footnote to this story, however. Over the years, the amount of china required to accommodate official State dinners has grown tremendously, with recent collections exceeding ten times the 30 place settings in Monroe's service. The cost has grown exponentially as well. Therefore, since the time of Lyndon Baines Johnson's Presidency, Official White House China has not been funded by the government but by private donations from the President's friends and key supporters.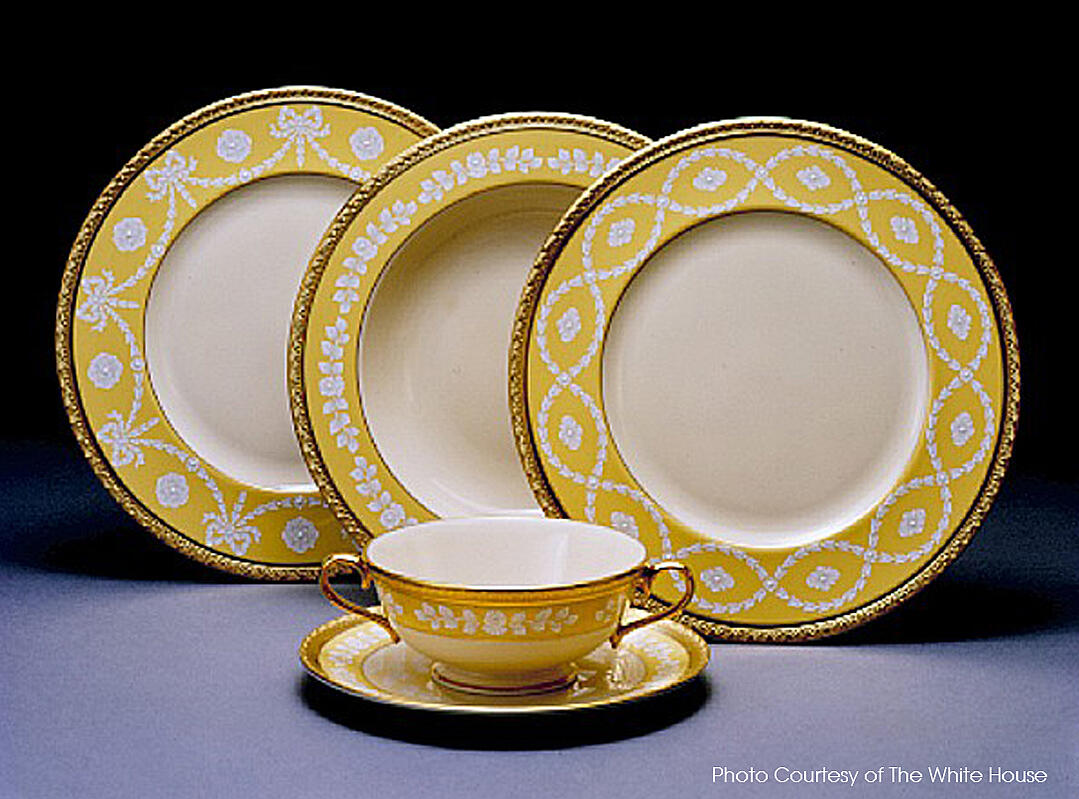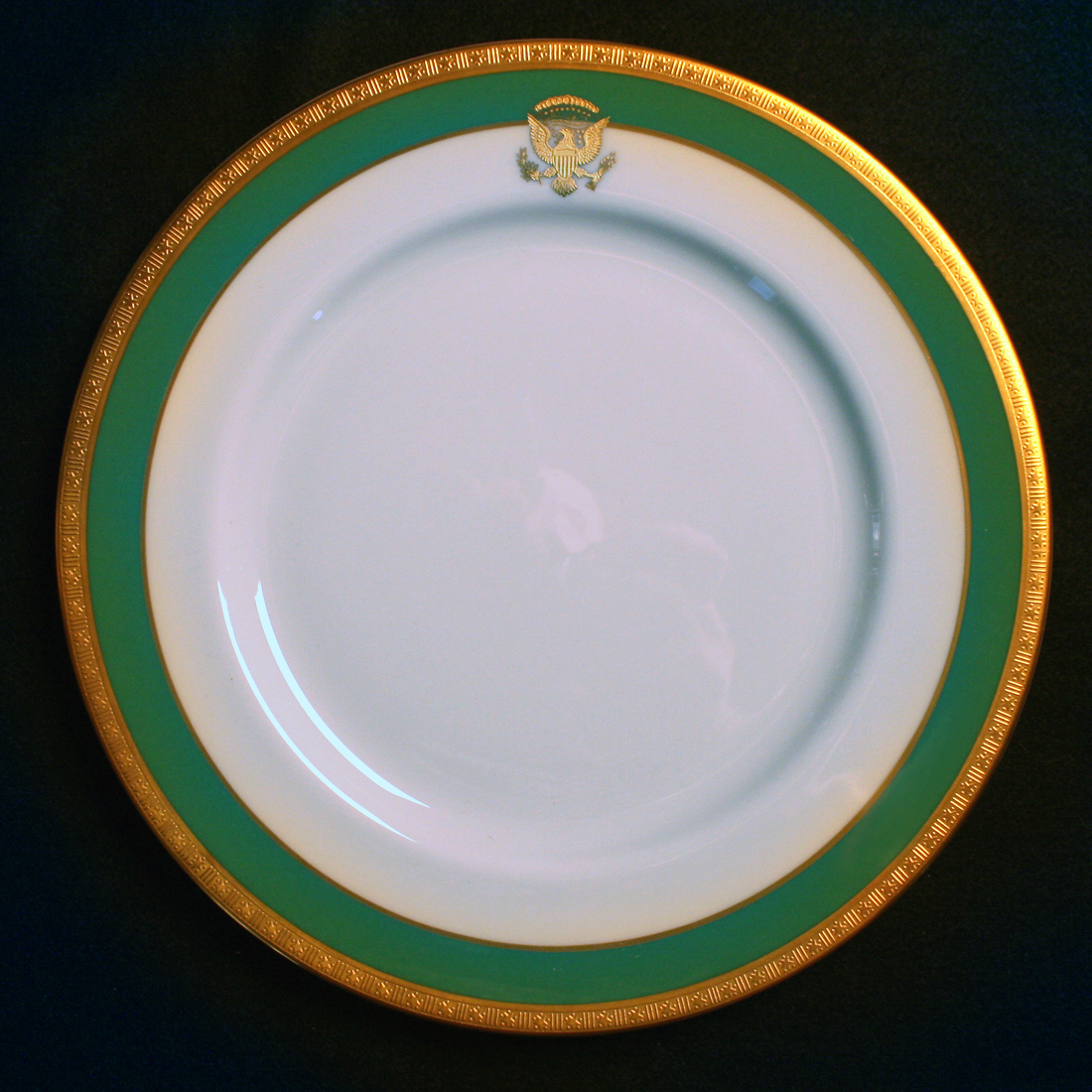 THE LOVELY BILL CLINTON OFFICIAL WHITE HOUSE CHINA SERVICE INCLUDES 300 TWELVE PIECE PLACE SETTINGS - MFG. BY LENOX - PART OF THE RALEIGH DeGEER AMYX COLLECTION
RALEIGH DeGEER AMYX WORLD RENOWNED HISTORIAN AND COLLECTOR
World renowned collector Raleigh DeGeer Amyx has acquired a remarkable number of scarce or rare pieces of official White House China. Mr. Amyx's passion for American historical artifacts has been his sole focus for nearly 40 years. Mr. Amyx's collection is the largest privately-owned collection of extremely high-quality, as well as the rarest, Official White House China and Presidential China in the world. If you would like to engage in a discussion with Mr. Amyx about White House China, please contact him through the button below.