THE NEW 2017 EDITION OF OFFICIAL WHITE HOUSE CHINA. SERIOUS COLLECTORS SHOULD PURCHASE THIS, AS UPDATED BY BILL ALLMAN, WHITE HOUSE CURATOR. FROM A BOOK POINT OF VIEW I CONSIDER THIS THE BIBLE - SO TO SPEAK.
If you're considering purchasing or selling a piece of Official White House China, what is a fair price? There is no catalog or similar resource where you can simply look up the value of a particular plate or serving dish. Instead, determining the value of Presidential and White House China takes considerable knowledge and experience. It is both an art and a science.
So we put the question to Raleigh DeGeer Amyx, one of the world's most expert collectors of Official White House.
LOVELY NEAR PRISTINE PLATE FROM THE 1786 GEORGE WASHINGTON PRESIDENTIAL CHINA - ONLY A FEW NEAR PRISTINE EXAMPLES STILL EXIST OF THE WASHINGTON CHINA - PART OF THE RALEIGH DeGEER AMYX COLLECTION
"Align yourself with an advanced collector who has superior knowledge of Official White House China as well as condition and valuation criteria," Mr. Amyx advises. Sometimes such a person will be the very best source from whom to purchase presidential china or negotiate a trade. This is because the dealer/collector may have a rare piece suited to your needs. For example, they may possess three identical pieces of a particular president's china – say Bill Clinton's service plates -- and may be willing to part with one. Then the buyer is in a good position to go after this piece via a trade or purchase.
As to cost, an advanced dealer or collector is expected to know current market value. Normally they never negotiate. Actually, this can make it much easier, because the buyer can simply agree to the price or say "no, thank you."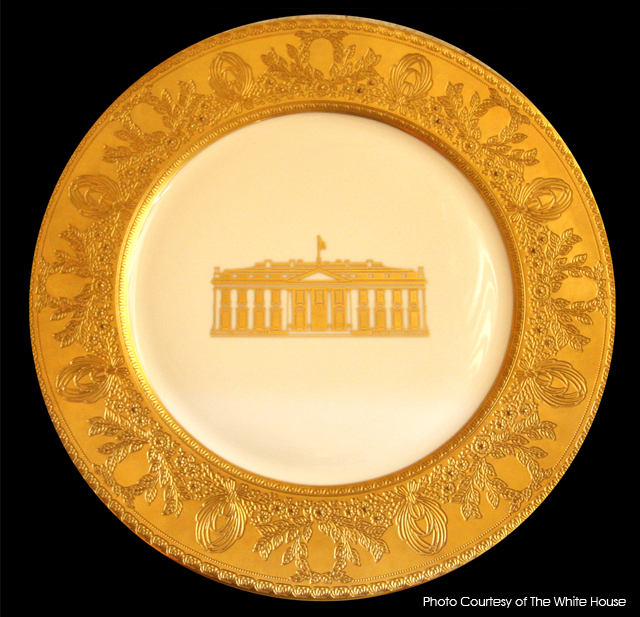 BOLD SERVICE PLATE FROM THE BILL CLINTON OFFICIAL WHITE HOUSE CHINA - COMMEMORATING THE 200TH ANNIVERSARY OF THE WHITE HOUSE,THIS WAS THE FIRST TIME THAT AN IMAGE OF THE WHITE HOUSE WAS EVER USED ON OFFICIAL WHITE HOUSE CHINA - PART OF THE RALEIGH DeGEER AMYX COLLECTION
Of course a prospective buyer can also research auction sale prices. This is definitely time-consuming, and it is often misleading, because published auction sale results don't reveal condition. Just the amount paid. And condition means everything. And if you're considering an auction house to sell your piece of White House China, bear in mind that the process can be slow and the results unpredictable.
"I know a collector/dealer who never purchases a piece of Official White House China unless it is in pristine condition," notes Mr. Amyx. "Thus, if he does sell a piece, the good news is that the buyer is assured they are purchasing Official White House China that is pristine." But remember, he warns, that the dealer/collector paid a premium price for pristine. Any buyer will also have to be prepared to pay more, too.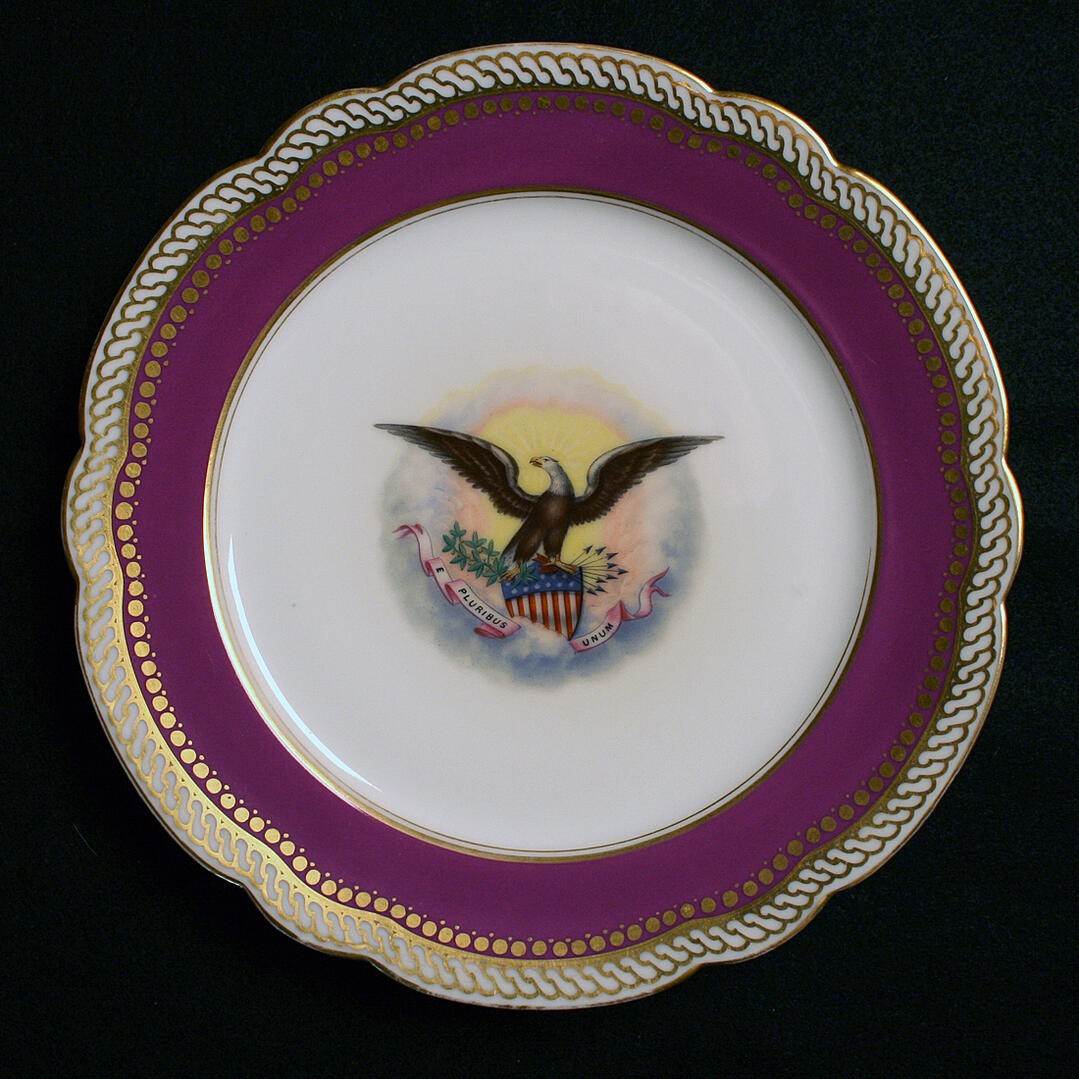 REGAL NEAR PRISTINE STATE DINNER PLATE FROM THE 1861 ABRAHAM LINCOLN OFFICIAL WHITE HOUSE CHINA - THIS CHINA PATTERN IS A FAVORITE AMONG ADVANCED COLLECTORS. PRESIDENTS JOHNSON, GRANT, ARTHUR AND MCKINLEY REORDERED PIECES FROM THE SAME PATTERN - OF COURSE THE VERSO OF THE LATTER SUBSEQUENT PIECES IS DIFFERENT FROM THE ORGINAL LINCOLN ORDER - PART OF THE RALEIGH DeGEER AMYX COLLECTION
In the long run, Mr. Amyx believes, near pristine condition really is worth it, for both parties. If the piece is perfect, the seller never has to explain the condition, trying to describe tiny chips, cracks, wear, or other imperfections. Collector/dealers will send photos, of course, but as Mr. Amyx points out, "It's always looks better in person." Photos simply cannot do justice to the luminescent beauty of Official White House China.
Determining condition and verifying or discovering provenance can be tricky. It requires an eye practiced in identifying sometimes-subtle differences that reveal critical details such as place or date of manufacture that can significantly affect the piece's value. In effect, says Mr. Amyx, his buyers are buying his knowledge as well as the china.
In a world where there are so many items one could collect, Mr. Amyx says collectors of Official White House China typically have a professed interest in American history, especially the Presidency. Each President's china selection reflects a certain perspective at that point in our country's history. Among Presidential memorabilia – things they owned or used during their tenure in the Executive Mansion -- White House China is considered to be one of the premier items.
RALEIGH DeGEER AMYX - HISTORIAN AND COLLECTOR
World renowned collector Raleigh DeGeer Amyx has acquired a remarkable number of scarce or rare pieces of official White House China. Mr. Amyx's passion for American historical artifacts has been his sole focus for nearly 40 years. Mr. Amyx's collection is the largest privately-owned collection of extremely high-quality, as well as the rarest, Official White House China and Presidential China in the world. If you would like to engage in a discussion with Mr. Amyx about White House China, please contact him through the button below.