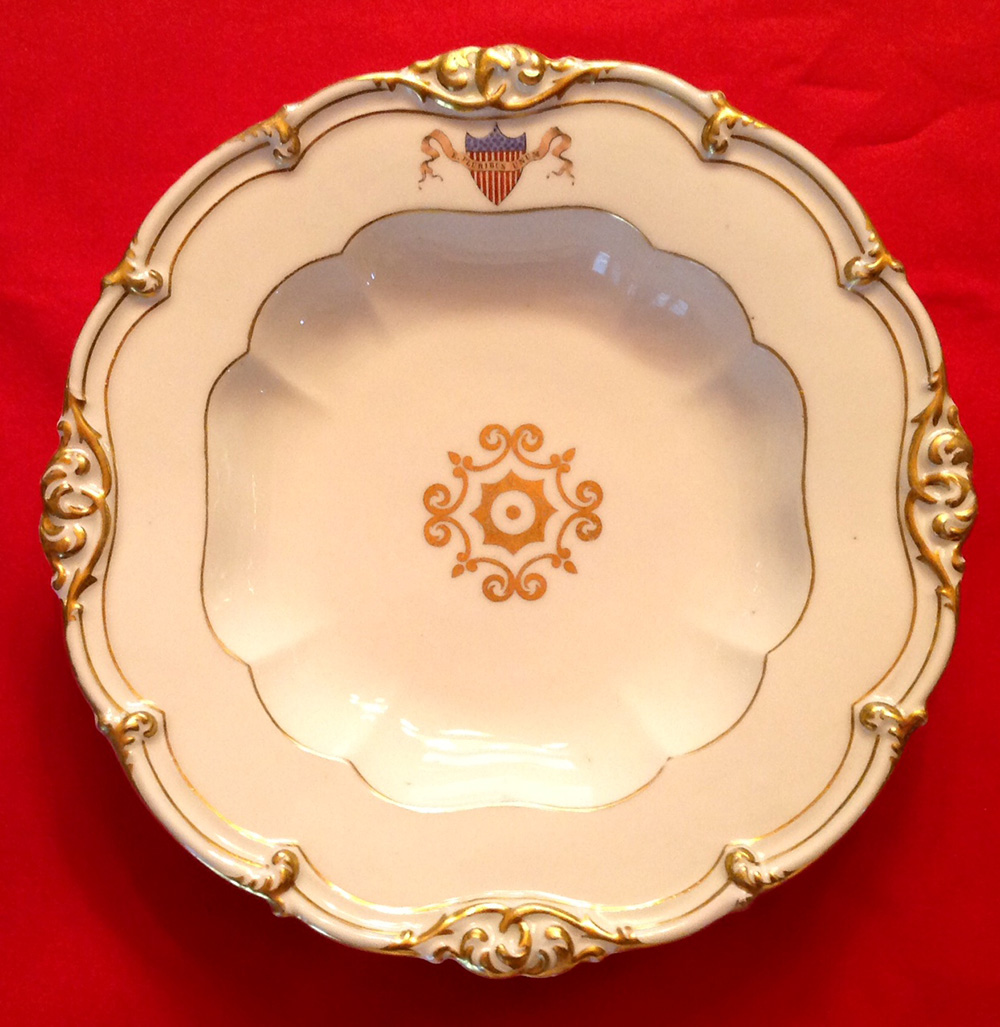 LOVELY PRISTINE CONDITION SOUP BOWL FROM THE 1846 JAMES K. POLK WHITE HOUSE CHINA - THIS WAS THE FIRST PRESIDENTIAL CHINA TO FEATURE THE PRESIDENTIAL EMBLEM IN RED, WHITE, & BLUE - PART OF THE RALEIGH DeGEER AMYX COLLECTION
Is White House China a worthy investment? Renowned collector Raleigh DeGeer Amyx says yes, indeed. Official White House China appreciates reliably over time, year after year. That is, it will if you buy wisely. As one who has been collecting official presidential dinnerware for nearly four decades, Mr. Amyx has developed a great deal of wisdom regarding Presidential dinnerware.
To make a good investment, you have to develop a good feel for the right price to pay initially. The most certain way to ensure you're get a truly worthy piece of china is to buy from someone who knows White House China well. Someone who has extensive first-hand experience is in the best position to give you sound, expert advice. Buying from someone like this is smart because you can be confident in the quality of your investment. Although buying from the right source may cost more, it comes with valuable assurance: there is no question about what you're getting.
THIS DELICATE EGG CUP FROM THE FIRST ABRAHAM LINCOLN WHITE HOUSE CHINA ORDER IN 1861 WAS HIDDEN INSIDE OF AN URN FOR OVER 100 YEARS, THUS PERSERVING THIS RARE EXAMPLE IN PRISTINE CONDITION. THE LINCOLN'S ORDERED ONLY 24 EGG CUPS OF WHICH ONLY A FEW ARE KNOWN TO EXIST - PART OF THE RALEIGH DeGEER AMYX COLLECTION
The more White House China you collect, the more you learn about it, because you can study your pieces up close. For Mr. Amyx, detailed scrutiny of porcelain within his collection has taught him to identify very similar plates without even looking at the front. He cites the Lincoln pattern as a good example.
The dinnerware chosen by Abraham and Mary Todd Lincoln features a very distinctive color called Solferino purple. That color, along with the overall design of the decoration, makes this china particularly beautiful. In fact, several subsequent Presidents chose to reorder this pattern when replacements were needed, rather than select a different pattern to mark their own presidency. However, porcelain other than those in the original Lincoln order do not bear the same verso markings. Mr. Amyx can discern simply by examining the back of a plate whether it is truly original Lincoln Official White House China or something used by a later President, such as by Presidents, Grant, Arthur or McKinley.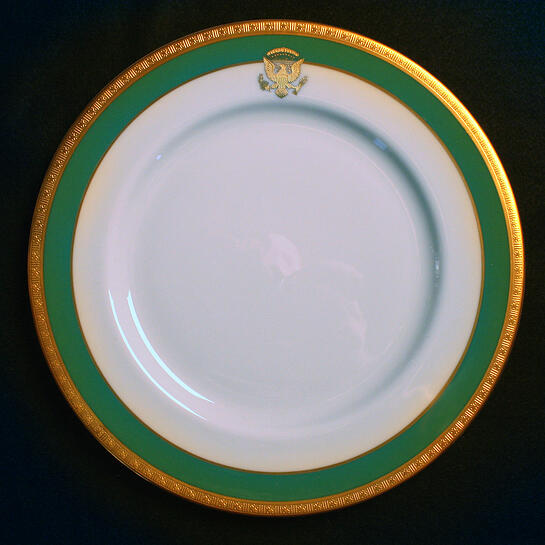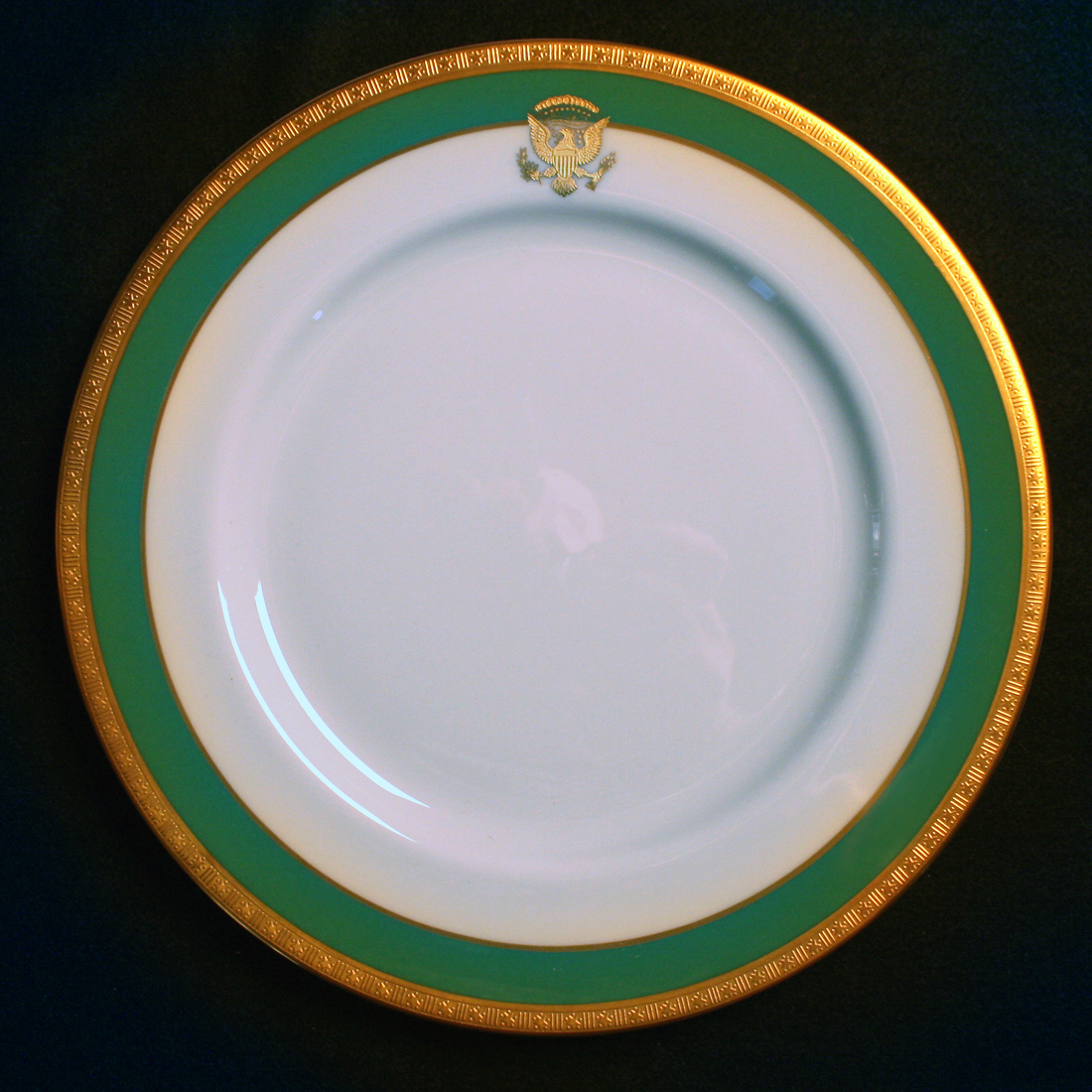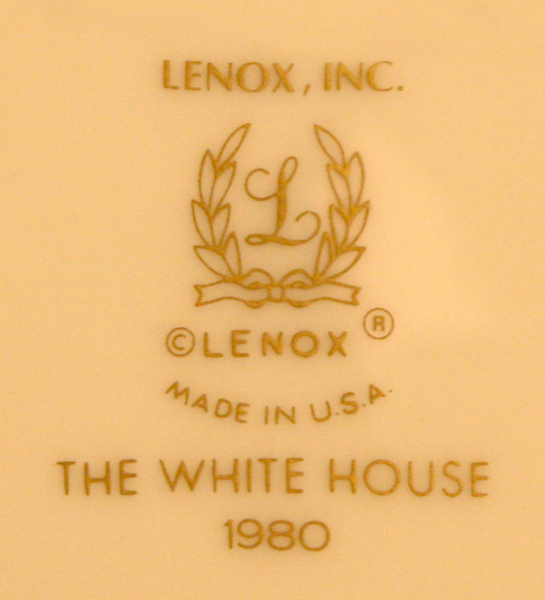 EXAMPLE OF A 10.5" DINNER PLATE AND VERSO MARKING ON THE BACK - FROM THE JIMMY CARTER WHITE HOUSE CHINA - PART OF THE RALEIGH DeGEER AMYX COLLECTION
Occasionally, someone who owns a piece of White House China may wish to cash in their investment. They may have inherited one or more pieces as a descendant of a past President. Or their family may have passed down a piece acquired while a predecessor or worked as part of the White House staff. However, there are only a couple of ways to sell the piece.
There are not many private individuals who actually collect White House China. Someone wishing to sell a piece may find Mr. Amyx through an online search, and if their piece is one Mr. Amyx is interested in, they can know they are getting a fair price for their china. But Raleigh DeGeer Amyx does not purchase pieces unless they are in excellent condition.
MAGNIFICENT RARE 24" HAND-PAINTED FISH PLATTER FROM THE 1880 RUTHERFORD B. HAYES OFFICIAL WHITE HOUSE CHINA - PART OF THE RALEIGH DeGEER AMYX COLLECTION
If Mr. Amyx does not buy the piece, then the owner's next best alternative is to sell it through an auction house. Mr. Amyx cautions that not all auction houses can handle the sale of a piece of White House China. In order to prepare a catalog presenting the item for sale and determine a likely value, the auction house will have to learn more about the piece. It may take multiple researchers to do this. Sometimes they call upon Mr. Amyx for advice.
So what makes collecting White House China a worthy investment? Its financial value increases over time. But the pieces themselves are very beautiful – stunning in some cases – exhibiting great artistic talent. And each President's choice of color and pattern is different. In some cases, the shapes and motifs are highly unusual.
Mr. Amyx notes that the pieces have so much more "life" when seen in person than when viewed in photographs. China of this stature has a porosity and depth no camera can see. It positively glistens. Mr. Amyx has the very rare privilege of admiring his collection every day.
RALEIGH DeGEER AMYX - HISTORIAN AND COLLECTOR
World renowned collector Raleigh DeGeer Amyx has acquired a remarkable number of scarce or rare pieces of official White House China. Mr. Amyx's passion for American historical artifacts has been his sole focus for nearly 40 years. Mr. Amyx's collection is the largest privately-owned collection of extremely high-quality, as well as the rarest, Official White House China and Presidential China in the world. If you would like to engage in a discussion with Mr. Amyx about White House China, please contact him through the button below.