STUNNING AND RARE 1879 RUTHERFORD B. HAYES ORIGINAL ORDER WHITE HOUSE CHINA HAND-PAINTED MULE DEER DINNER PLATE.
PART OF THE RALEIGH DeGEER AMYX COLLECTION
The more you learn about Official White House China, the more you start to feel intoxicated by the sheer beauty of some of the various Presidential White House China designs These are not merely "dishes," they are extraordinary works of art. Every set of Presidential porcelain is beautiful in its own way, but a few stand out even among such exalted company. Such is the case with the Official White House China chosen by Rutherford B. and Lucy Hayes.
Imagine attending an official state dinner at the White House, and seeing a colorful and lifelike Colorado Rocky Mountain mule deer on the face of your dinner plate. So beautiful you would hesitate to cover it with food -- a rare treat in such a formal setting. In most china collections, the decoration remains the same throughout. Or there may be some variation from one type of dish to another, but plates, serving pieces, cups, and bowls still look essentially the same.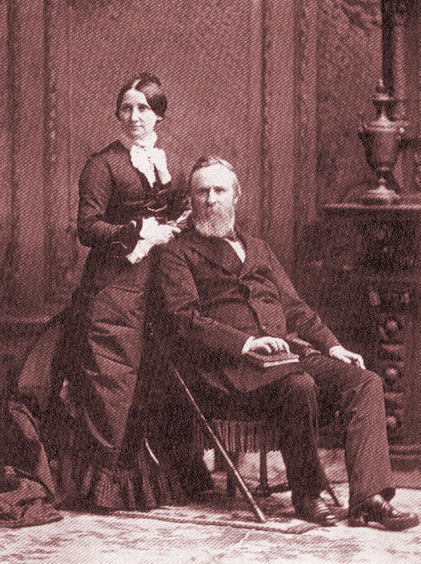 19TH PRESIDENT RUTHERFORD B. HAYES
AND FIRST LADY LUCY WEBB HAYES
Pieces within the Hayes collection differ dramatically. Each features an aspect of the American outdoors, exquisitely rendered as a painting. And, in fact, each one of the 130 original designs was painted by a man famed during his time as an artist and historian, Theodore Davis. As it happened, he was great friends with another Theodore named Haviland. So when President Hayes and his First Lady commissioned Haviland & Co. to produce their Official White House China, one Theodore immediately thought of the other.
Could those amazing paintings be incorporated into china design? Yes. Hand-painted once again.
MAGNIFICENT AND RARE HAYES OFFICIAL WHITE HOUSE CHINA HAND-PAINTED "SHAD" FISH PLATTER - PART OF THE RALEIGH DeGEER AMYX COLLECTION
SEE MORE WHITE HOUSE CHINA HERE
But the Hayes porcelain stands out from other White House China in another way. Different types of pieces have entirely different shapes, cleverly designed to further show off the artwork painted on them. A fish seems to almost leap out from a rectangular serving piece with artfully curled corners reminiscent of waves. You can almost hear the stunning Baltimore oriole on the comma-shaped plate sing a few notes. Or feel the warm crackle of the beachside campfire within the soup bowl.
IMPRESSIVE AND RARE HAYES OFFICIAL WHITE HOUSE CHINA HAND-PAINTED DESSERT PLATE - PART OF THE RALEIGH DeGEER AMYX COLLECTION
And then there is that lively mule deer buck, prancing on its 10" dinner plate. Renowned White House China collector Raleigh DeGeer Amyx says two pieces from this amazing and rare 1879 Hayes collection – the mule deer plate and the campfire soup bowl -- "landed in his lap" early in 2018, thanks to his reputation and strong online presence. These pieces joined other Rutherford B. Hayes porcelain previously acquired by Mr. Amyx.
ELEGANT AND RARE 1879 HAYES ORIGINAL ORDER OFFICIAL WHITE HOUSE CHINA HAND-PAINTED SOUP BOWL - PART OF THE RALEIGH DeGEER AMYX COLLECTION
And while it was an unexpected coup to obtain these two unparalleled pieces, Mr. Amyx says he was "astounded" when he received the items and turned them over to examine the verso. There was that distinctive cypher -- printed in turquoise, orange and black – that marked these pieces as belonging to the original 1879 Hayes china order. No re-ordered pieces or replicas carry this marking. "I had never even seen that cypher in person," he says, "even when viewing the Presidential china collections at the White House itself."
ALL OF THE ORIGINAL ORDER HAYES OFFICIAL WHITE HOUSE CHINA PIECES CONTAIN THIS RARE 1879 VERSO
He says he is so grateful for opportunities like this. He has worked hard for four decades to hone his knowledge and detecting skills as he has refined his collection, and the result is that people now seek him out. They want to do business with him because they know he is reputable. "It's been fun to be like a curator," he admits. "I have learned so much, and met some nice people." It's hard to say anything better than that about your career – especially when every day you get to admire the finest White House China ever produced.

EXTRAORDINARILY RARE 1879 HAYES ORIGINAL ORDER OFFICIAL WHITE HOUSE CHINA HAND-PAINTED FISH PLATE - THE RALEIGH DeGEER AMYX COLLECTION
RALEIGH DeGEER AMYX - IMPOSING HISTORIAN & COLLECTOR
Distinguished historian and collector Raleigh DeGeer Amyx has acquired a remarkable number of scarce or rare pieces of official White House China. Mr. Amyx's passion for American historical artifacts has been his sole focus for nearly 40 years. Mr. Amyx's collection is the largest privately-owned collection of extremely high-quality, as well as the rarest, Official White House China and Presidential China in the world. If you would like to engage in a discussion with Mr. Amyx about White House China, please contact him through the button below.