ELEGANT OFFICIAL WHITE HOUSE CHINA PIECES FROM THE ABRAHAM LINCOLN COLLECTION - A FAVORITE AMONG SUBSEQUENT PRESIDENTS, THIS PATTERN HAS BEEN REPRODUCED MORE THAN ANY OTHER - SOME EXAMPLES ARE PART OF THE RALEIGH DeGEER AMYX COLLECTION
Every successful collector is an experienced detective. It takes knowledge, insight, and sometimes a little creativity to find the pieces you want. And, often, it can take years. Decades, even. When it comes to Official White House China, renowned collector Raleigh DeGeer Amyx says his pieces that have been most difficult to acquire are those that are the rarest.
It's easy to understand why some White House China, in particular, is now extremely rare. Early Presidents ordered far smaller quantities of china for official use than today's residents of the Executive Mansion, because state dinners were much more intimate affairs in early times.
THE BEAUTIFUL JIMMY CARTER WHITE HOUSE CHINA WAS ACTUALLY NEVER USED IN THE WHITE HOUSE SINCE IT ARRIVED AFTER CARTER LEFT OFFICE - SOME EXAMPLES ARE PART OF THE RALEIGH DeGEER AMYX COLLECTION
Some Presidential china patterns were never reordered, either by the same President or subsequent office-holders. And time takes its toll on all porcelain, so it's only natural that breakage would decimate the oldest collections of Presidential China, further reducing the number of pieces available to modern-day collectors.
When all those factors converge, Mr. Amyx says it can be like looking for the proverbial needle in a haystack. On top of that, there are other factors that make certain Presidents' china more competitive to collect. Within his exquisite collection of White House China, there are seven pieces Mr. Amyx points to as the toughest to acquire. In this article, we'll look at three of them. Stay tuned to read about the remaining four pieces.
NEAR PRISTINE GEORGE WASHINGTON WHITE HOUSE CHINA PLATE - THIS PORCELAIN IS THE OLDEST PRESIDENTIAL CHINA, ONE OF THE RAREST, AND, THERFORE, ONE OF THE HARDEST TO ACQUIRE - PART OF THE RALEIGH DeGEER AMYX COLLECTION
GEORGE WASHINGTON - Technically, our first President's official dinnerware was never "White House" china, because he never lived in the White House. However, because Washington used his own Society of Cincinnati dinnerware to serve visiting foreign dignitaries, that service is now considered Official White House China. There were 302 pieces in the original Society of Cincinnati order. The few pieces that remain are difficult to collect for their value as "Presidential China," as the porcelain is also sought-after by those who collect all types of George Washington memorabilia. Mr. Amyx considers only Franklin Pierce's china to be rarer than Washington's.
EXTREMELY RARE JAMES MADISON LOZENGE SERVING DISH - PART OF THE RALEIGH DeGEER AMYX COLLECTION
JAMES MADISON - Given its history, it's a wonder that any "Official" China from Madison's Presidency still lives on today. His original order of porcelain was destroyed when the British burned down the White House. Forced to live and serve state guests in a private home while the Executive Mansion was under reconstruction, Madison contributed a set of dinnerware from his own home, Montpelier. This was a 231-piece service he obtained while serving as Secretary of State. That porcelain, too, suffered several indignities over the years, and now only 30 pieces are known to remain. Mr. Amyx owns four of them.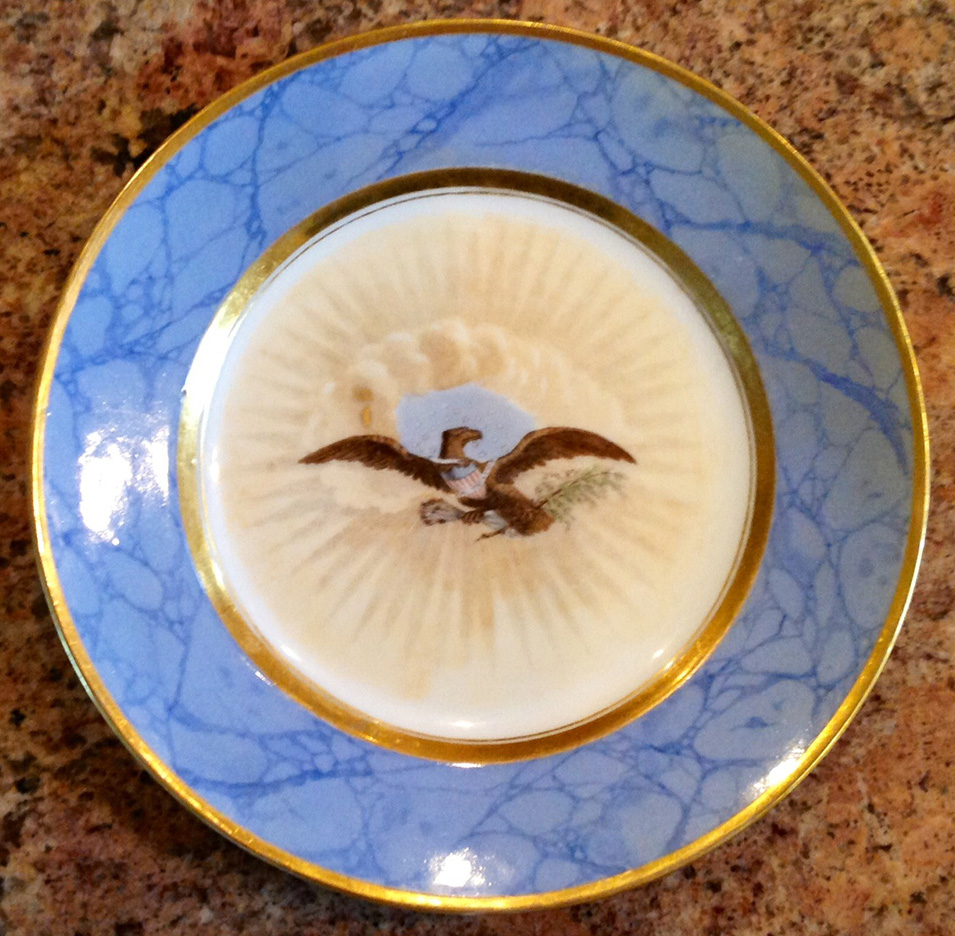 STUNNING DESSERT PLATE FROM THE JAMES MONROE OFFICIAL WHITE HOUSE CHINA COLLECTION - PART OF THE RALEIGH DeGEER AMYX COLLECTION
JAMES MONROE - "This china is so gorgeous," notes Mr. Amyx, "and Monroe was a two-term President. You'd think he would have ordered more, and the next President didn't even order more." To this day, it is not yet clear how many items were in Monroe's original order of Official White House China, but what few remain are now very rare. "I don't even own the prettiest piece," he admits.
RALEIGH DeGEER AMYX - RENOWNED HISTORIAN AND COLLECTOR
Distinguished historian and collector Raleigh DeGeer Amyx has acquired a remarkable number of scarce or rare pieces of official White House China. Mr. Amyx's passion for American historical artifacts has been his sole focus for nearly 40 years. Mr. Amyx's collection is the largest privately-owned collection of extremely high-quality, as well as the rarest, Official White House China and Presidential China in the world. If you would like to engage in a discussion with Mr. Amyx about White House China, please contact him through the button below.