UNIQUE BARACK OBAMA OFFICIAL WHITE HOUSE CHINA DINNER PLATE - THIS IS THE FIRST PRESIDENTIAL DINNER PLATE TO HAVE NO COLOR AND NO PRESIDENTIAL COAT OF ARMS - THE 3-D DESIGN, HOWEVER, IS BASED SOLEY ON THE RARE JAMES MADISON OFFICIAL WHITE HOUSE CHINA DINNER PLATE
In our previous Part 1 blog article, we asked distinguished White House China collector Raleigh DeGeer Amyx which pieces in his collection were the most difficult to acquire. Not surprisingly, he says the seven that were hardest to find were also the rarest. In that article, he described his acquisition of porcelain used by Presidents George Washington, James Madison, and James Monroe. Now let's look at the other four.
JOHN QUINCY ADAMS - As President, John Quincy Adams used china from the Monroe collection when hosting foreign dignitaries, but on some occasions he used his personal porcelain service for state dinners instead. So the china pictured below, purchased when he was Secretary of State, is also considered Official White House China.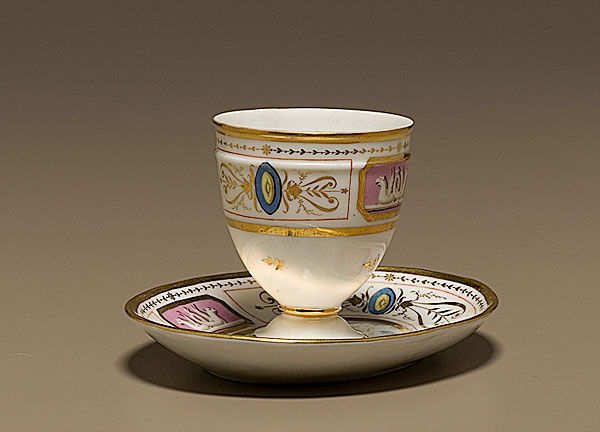 ELEGANT AND RARE JOHN QUINCY ADAMS OFFICIAL WHITE HOUSE CHINA ONE-PIECE CUSTARD CUP - A HIGHLIGHT OF THE RALEIGH DeGEER AMYX COLLECTION
There is no record of the original quantity. Mr. Amyx gave up hope of finding a piece, rationalizing to himself that this china didn't really look "Official" anyway, because it bears no presidential eagle. Then he spotted a picture of a John Quincy Adams custard cup in an auction catalog, and bid successfully. "Finally, I had it!" he says.
Within a year, an antiques dealer noticed a picture of the custard cup on Mr. Amyx's website and offered to sell him more pieces. Mr. Amyx chose a square plate and a 9" soup bowl. Suddenly, after nearly 35 years of searching to no avail, Mr. Amyx now finds himself the "world's greatest acquirer" of John Quincy Adams Official White House China.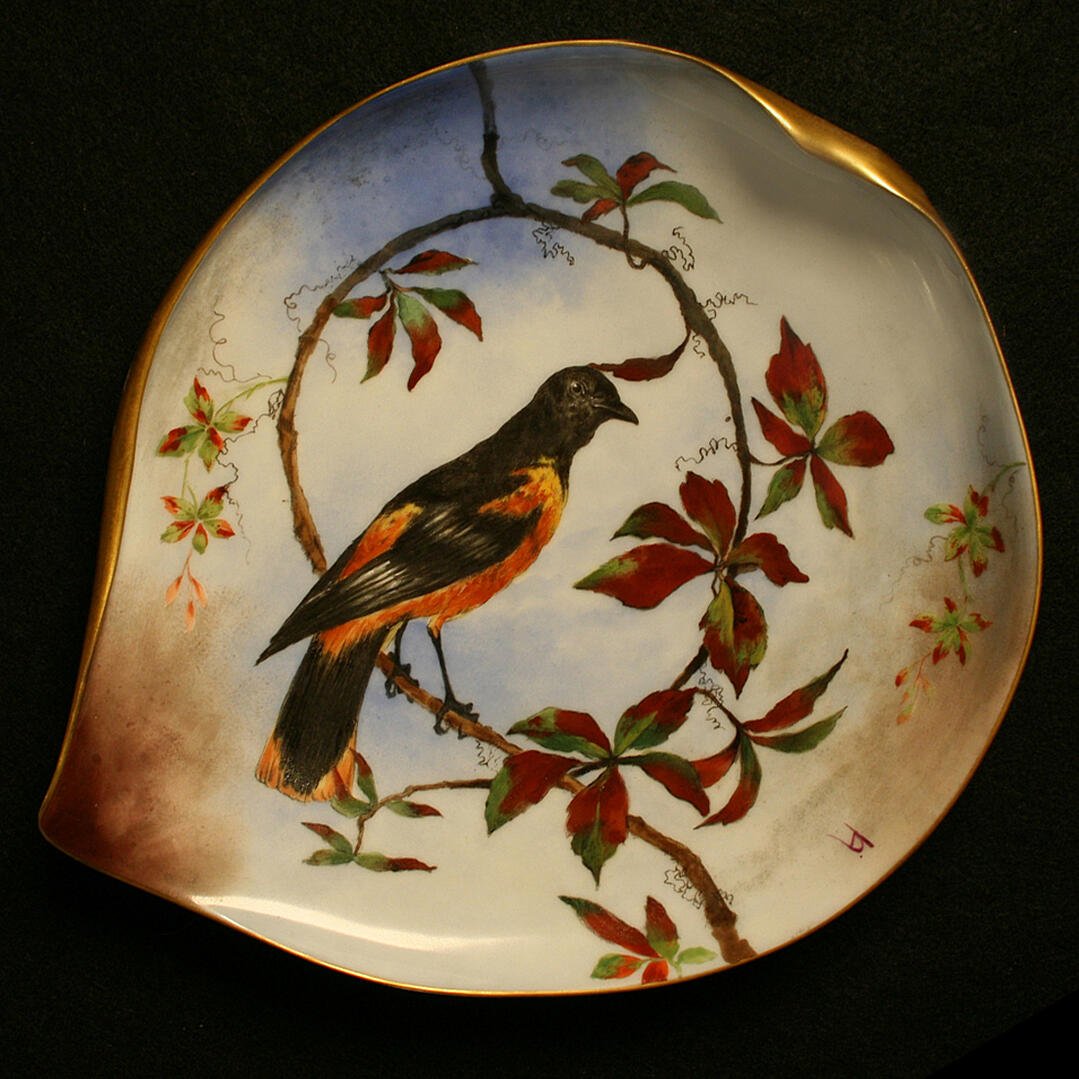 ELEGANT HAND-PAINTED RUTHERFORD B. HAYES OFFICIAL WHITE HOUSE CHINA DESSERT PLATE - PART OF THE RALEIGH DeGEER AMYX COLLECTION
RUTHERFORD B. HAYES - The Hayes White House China features stunning paintings that depict American nature – flowers, trees, land and sea animals – on unusually-shaped plates and bowls. It is not so difficult to find pieces that look identical to the porcelain President Hayes commissioned, because the original order was later augmented with replacements and Haviland also reproduced the china for sale to the public.
RARE "1879 TH" SIGNATURE CYPHER ON THE HAYES OFFICIAL WHITE HOUSE CHINA FISH PLATE
However, only 562 pieces from the first order bear a distinctive "TH" cypher on the verso. Neither White House replacements nor dishes sold to the public carry this mark. That makes porcelain from the original order extremely rare indeed.
Competition for Hayes Presidential China comes from collectors who focus on natural history artifacts as well as those who collect china itself, Presidential or otherwise. Some china collectors further limit their acquisitions to one specific manufacturer.
CLASSIC THEODORE ROOSEVELT OFFICICAL WHITE HOUSE CHINA STATE FISH PLATE - MANUFACTURED BY WEDGEWOOD - PART OF THE RALEIGH DeGEER AMYX COLLECTION
THEODORE ROOSEVELT - The porcelain service ordered by Theodore Roosevelt for official use included 1296 pieces. Mr. Amyx believes that, "If they had the opportunity and money, people would buy this White House China only because it belonged to President Roosevelt."
In fact, the piece in his own collection came from a well-known collector whose interest was solely in Theodore Roosevelt and JFK political artifacts. He had purchased the plate at a political collectors' show some 10 years earlier, and Mr. Amyx had repeatedly admired it. One day the owner offered to sell it, and Mr. Amyx says he was "thrilled to get it for such a reasonable price."
The ability to get along well with people and build relationships over the years has enabled Raleigh DeGeer Amyx to uncover and acquire very special items for his collection.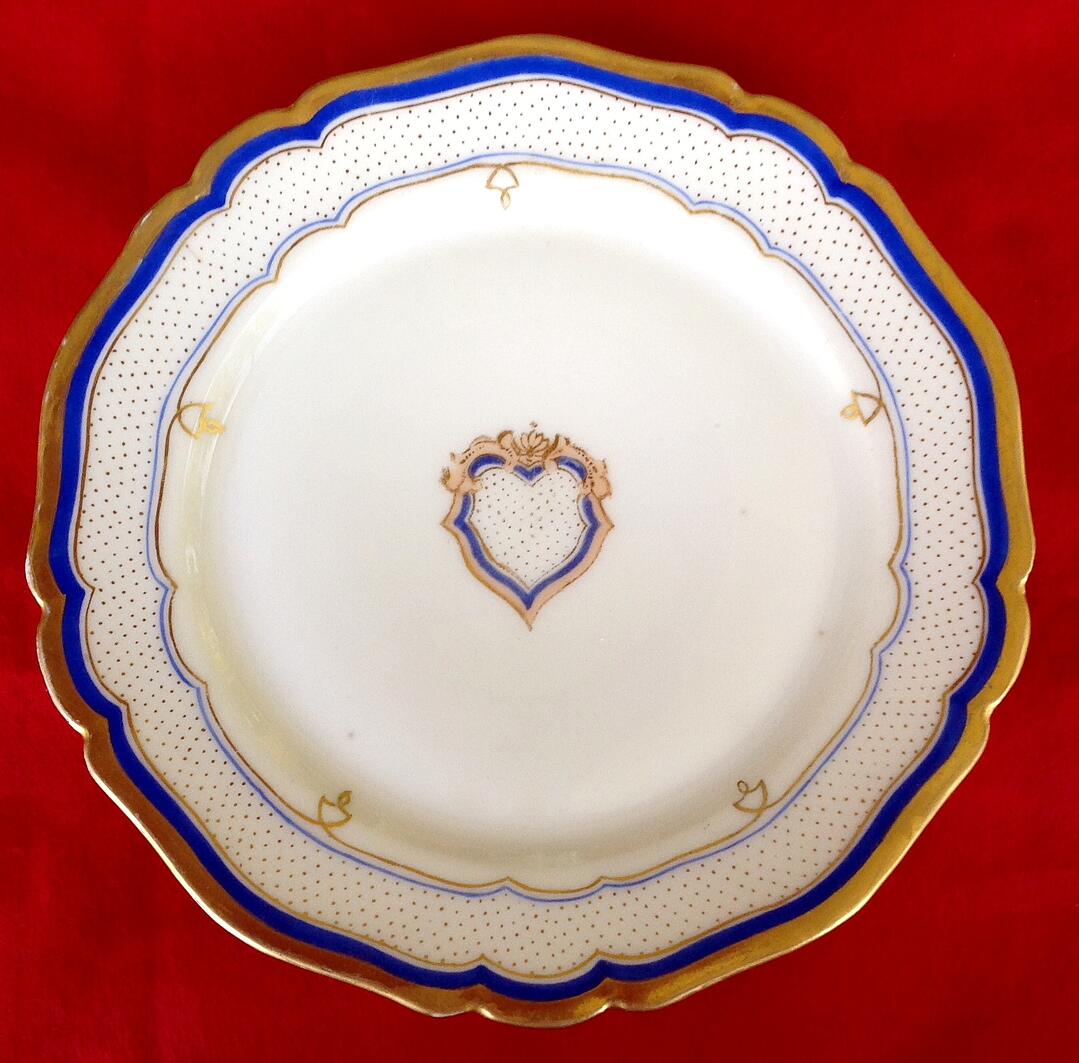 ELEGANT FRANKLIN PIERCE OFFICIAL WHITE HOUSE CHINA PLATE - PART OF THE RALEIGH DeGEER AMYX COLLECTION
FRANKLIN PIERCE - Mr. Amyx says that in his more-than-30 years of collecting Official White House China, he has never seen a piece from the Pierce Presidency go up for auction – except once. And that was the piece Mr. Amyx was able to acquire.
He bought the plate almost by accident. At the time, he had been collecting Presidential China for only a few years, and he had no idea this particular piece was so valuable, but he sensed that he should bid on it. Mr. Amyx was able to purchase it at a reasonable price, only later discovering its uniqueness when he saw a Pierce piece on display at the White House. The Pierce China order consisted of just 287 pieces.
Mr. Amyx also relates that Barbara Pierce Bush – a direct descendant of Franklin Pierce – included a plate from his White House China in a rotating display in the Oval Office during her tenure as First Lady.
So there you have it - the seven examples of Official White House China that collector Raleigh DeGeer Amyx says were most difficult to find. In order, by his assessment: George Washington, James Madison, James Monroe, John Quincy Adams, Rutherford B. Hayes, Theodore Roosevelt, and Franklin Pierce. But he isn't finished collecting. Mr. Amyx is always on the lookout for the next historically significant and exceptionally lovely piece of Official White China. Which piece of Official White House China will he acquire next?
RALEIGH DeGEER AMYX - RENOWNED HISTORIAN AND COLLECTOR
Distinguished historian and collector Raleigh DeGeer Amyx has acquired a remarkable number of scarce or rare pieces of official White House China. Mr. Amyx's passion for American historical artifacts has been his sole focus for nearly 40 years. Mr. Amyx's collection is the largest privately-owned collection of extremely high-quality, as well as the rarest, Official White House China and Presidential China in the world. If you would like to engage in a discussion with Mr. Amyx about White House China, please contact him through the button below.