EXTRAORDINARILY RARE 1861 ABRAHAM LINCOLN OFFICIAL WHITE HOUSE CHINA EGG CUP. THE LINCOLN'S ONLY ORDERED 24 EGG CUPS OF WHICH ONLY A FEW ARE KNOWN TO STILL EXIST - PART OF THE RALEIGH DeGEER AMYX COLLECTION
The story couldn't be better if it had been imagined by a famous mystery writer. And, yet, it's true. It's the story of how Raleigh DeGeer Amyx came to own an exquisite little egg cup – one once owned and used by President Abraham Lincoln and his First Lady when they lived in the White House. Yes, the egg cup was part of the Lincoln's Official White House China service.
The egg cup is a dainty little example of the finest French porcelain, measuring just 2 1/2" X 3 5/8". It came to America in 1861 as part of a 190-piece dinner service imported by New York's E.V. Haughwort and Company at the behest of Mary Todd Lincoln. In New York, the porcelain was hand-painted by the company's own artists, including Mr. Haughwort himself. The design features an eagle and the distinctive Solferino purple color that is the hallmark of the Lincoln White House China collection.
EXTRAORDINARILY RARE 1861 ABRAHAM LINCOLN OFFICIAL WHITE HOUSE CHINA DOUBLE HANDLED PLATTER - PART OF THE RALEIGH DeGEER AMYX COLLECTION
So how did Raleigh DeGeer Amyx come by this little beauty? By accident. Or maybe it was fate. A gentleman contacted Mr. Amyx in June of 2015, asking if he was interested in an egg cup he had found. The man was not a collector himself. In fact, at first he had no idea he even owned the egg cup. He had purchased two porcelain vases from an antiques shop in the Palm Beach area. The vases were part of a wealthy couple's estate.
But when he got the vases home, he discovered one was stuffed with old newspapers. Very old newspapers. As he removed them, he found even older newspaper at the bottom of the vase, and wrapped inside was a pristine porcelain item. What was it?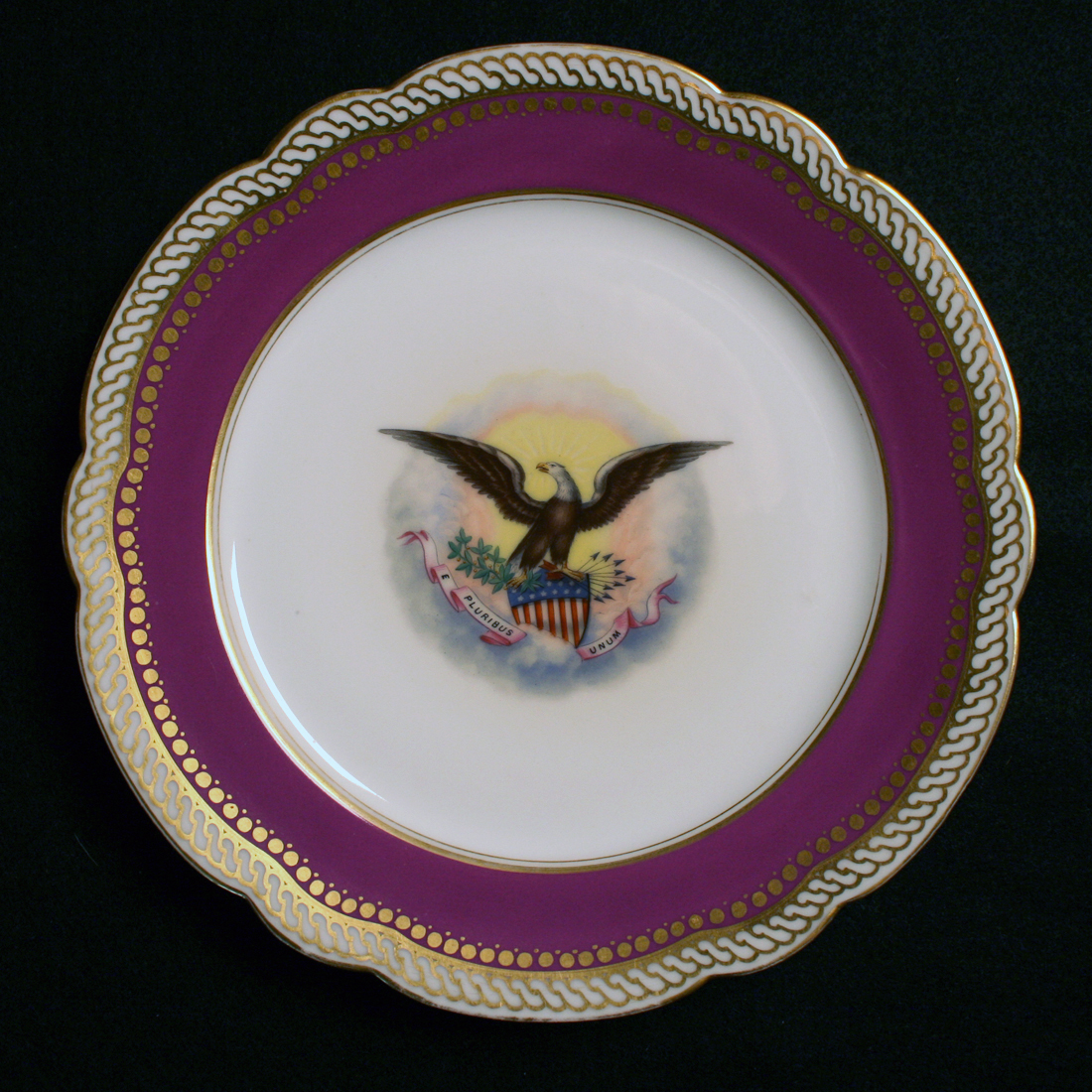 ELEGANT 1861 LINCOLN OFFICIAL WHITE HOUSE CHINA DINNER PLATE - PART OF THE RALEIGH DeGEER AMYX COLLECTION
He was stunned. The newspaper in which the cup was wrapped was dated around 1900-1910, he later told Mr. Amyx. The gentleman didn't know what the object was, but it looked expensive. And with the eagle and its exceptional surrounding decoration, he figured it might have something to do with a past President. So he did some research, and that lead him to Raleigh DeGeer Amyx's website. Was Mr. Amyx interested? You bet!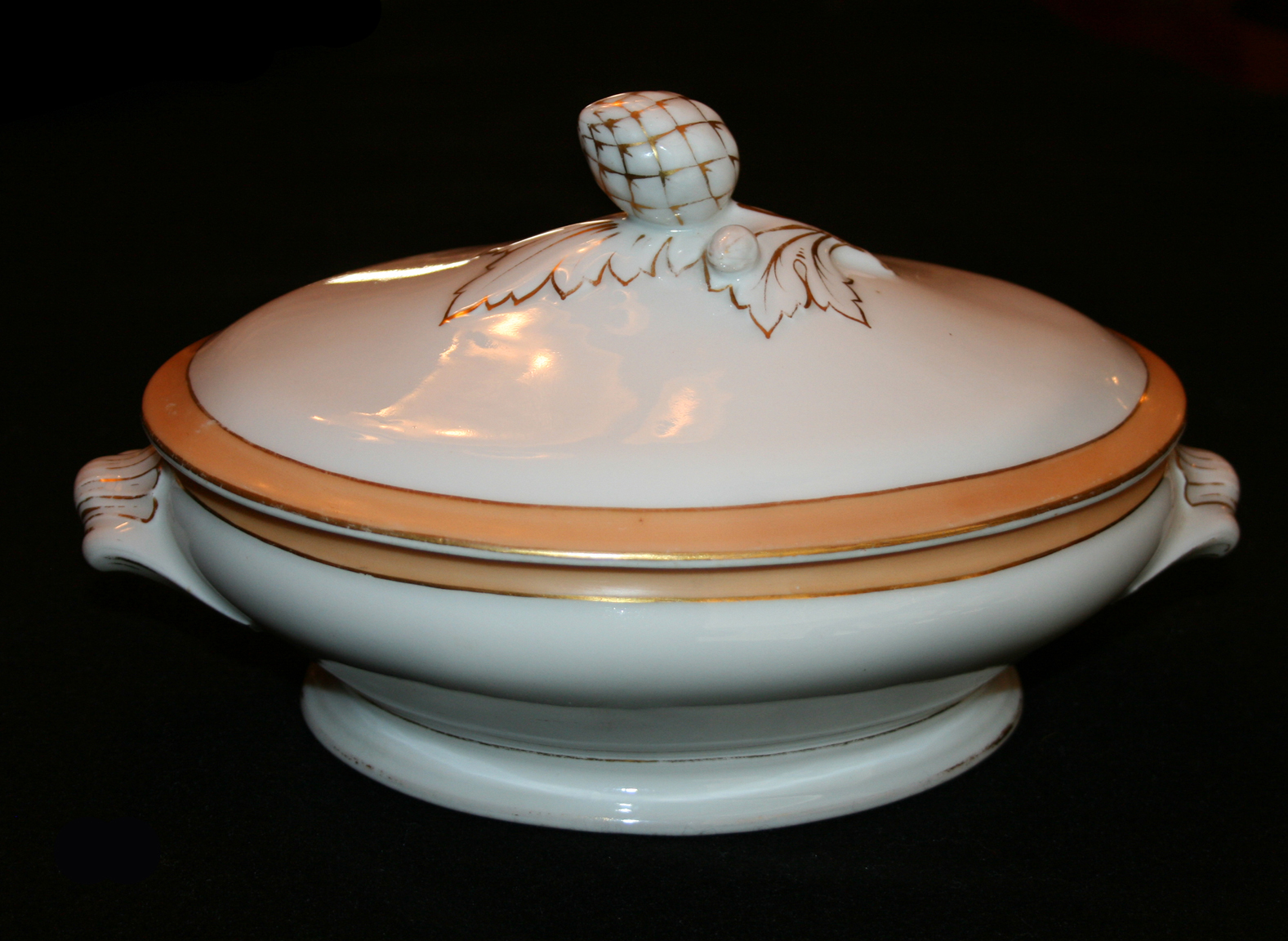 GRACEFUL LINCOLN 1865 OFFICIAL WHITE HOUSE CHINA SERVING PIECE - ONE OF ONLY FOUR BUFF CHINA SERVING PIECES ORDERED IN LINCOLN'S SECOND TERM - PART OF THE RALEIGH DeGEER AMYX COLLECTION
But the story gets even better. "In all of the millions of people who live in the United States," says Mr. Amyx, "it turns out this fellow lived just 23 miles away from me." They arranged a personal visit so Mr. Amyx could personally examine the egg cup, and the entire transaction was completed quickly. The fellow was shocked that he had literally uncovered something so valuable, especially since he had paid nothing for it. He was happy to sell, though, and that's how the Lincoln egg cup became part of the renowned Amyx Collection of Official White House China.
OTHER EXAMPLES OF STUNNING LINCOLN WHITE HOUSE CHINA
What's the rest of the story? How did the Lincoln egg cup come to be wrapped and placed in that vase? Was it hidden on purpose? Simply packed efficiently and very carefully for a household move? Most likely we will never know. If only the little egg cup could talk.
RALEIGH DeGEER AMYX - IMPOSING HISTORIAN & COLLECTOR
Distinguished historian and collector Raleigh DeGeer Amyx has acquired a remarkable number of scarce or rare pieces of official White House China. Mr. Amyx's passion for American historical artifacts has been his sole focus for nearly 40 years. Mr. Amyx's collection is the largest privately-owned collection of extremely high-quality, as well as the rarest, Official White House China and Presidential China in the world. If you would like to engage in a discussion with Mr. Amyx about White House China, please contact him through the button below.