AIR FORCE ONE SERVES AS A SECURE OFFICE IN THE SKY FOR THE PRESIDENT TO CONDUCT BUSINESS WHILE TRAVELLING - THEODORE ROOSEVELT WAS THE FIRST PRESIDENT TO FLY IN AN AIRCRAFT AFTER LEAVING OFFICE - F.D.R. WAS THE FIRST PRESIDENT TO FLY WHILE IN OFFICE
The most famous presidential china is, of course, Official White House China. But America's chief executives don't always dine at the White House. They often conduct their official duties elsewhere, including while traveling on the Official Presidential jet, Air Force One. For some collectors, Air Force One China has a special appeal. These collectors are enthused about airplanes, so Air Force One China naturally dovetails with that interest.
Thanks to advanced technology, presidents traveling on Air Force One can function at a very high level – just as if they were in the White House. The plane is equipped with a conference room, where the table converts into a medical operating table if required. But even when the Commander-in-Chief is airborne, meal service is a necessity. And when the President of the United States dines, the china automatically "morphs" into Presidential China.
CLASSIC AIR FORCE ONE CHINA CUP AND SAUCER - PERHAPS SELECTED BY PRESIDENT JOHN F. KENNEDY AND FIRST LADY JACQUELINE BOUVIER KENNEDY
Nonetheless, Air Force One china is never considered to be Official White House China. Typically, dinnerware used on board the plane is not of the highest quality nor, usually, as beautiful as Official White House China. The latter is designed specifically to be used for official state dinners with visiting dignitaries. Those riding with the President on Air Force One are often members of the press or others who wouldn't be considered White House China guests.
President Kennedy and, after him, President Johnson and others used china made by Franciscan in flight. In general, Air Force One china has featured a design that includes an ivory base with a gold band and the presidential seal. However, renowned White House China collector Raleigh DeGeer Amyx says the prettiest Air Force One china is the pattern selected by President George H. W. Bush.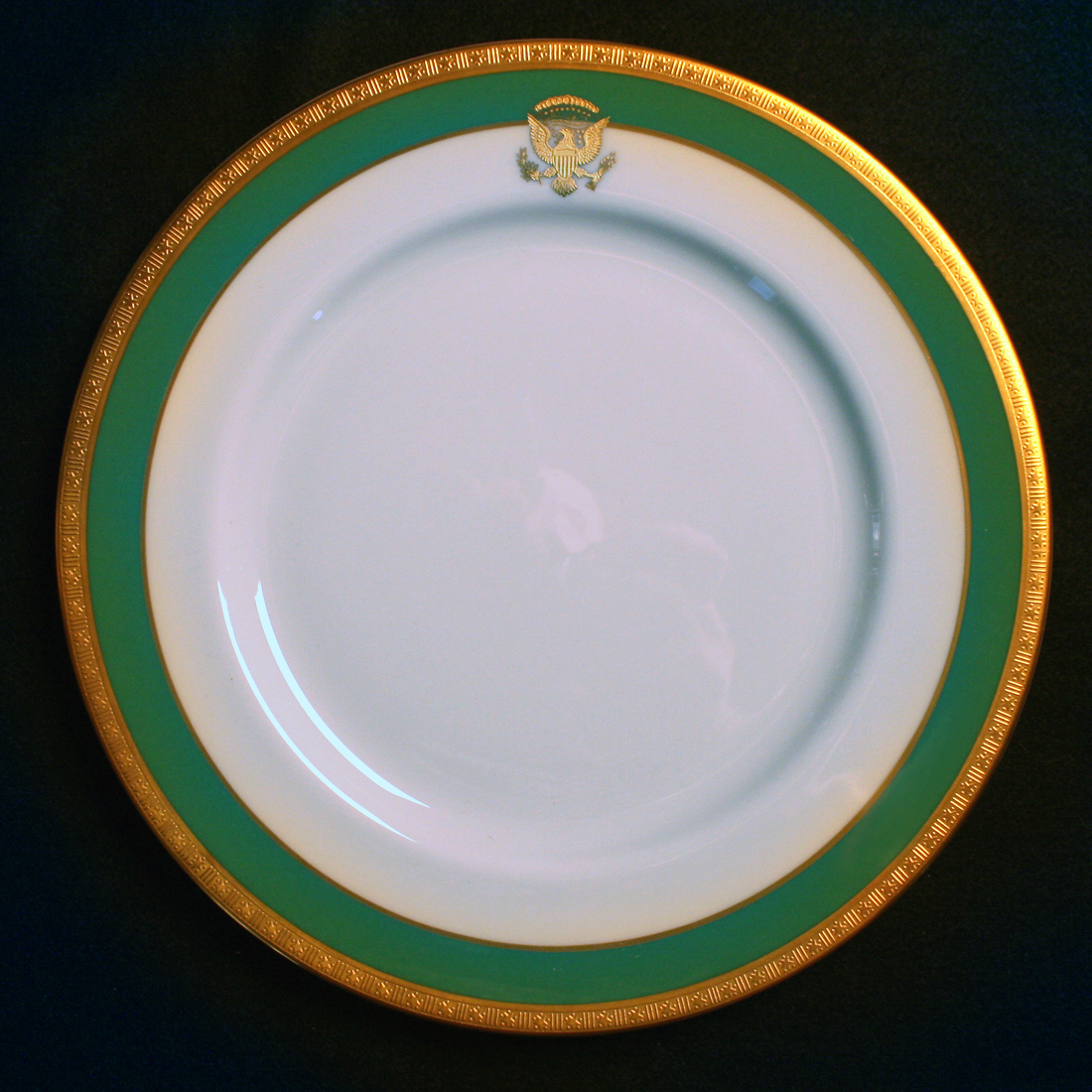 GEORGE H. W. BUSH CHOSE THIS ELEGANT CHINA FOR AIR FORCE ONE - THE COBALT BLUE INNER CIRCLE DENOTES THAT THIS SERVICE WAS FOR USE ONLY BY THE PRESIDENT AND HIS GUESTS IN THE FORWARD PRESIDENTIAL SUITE, NOT TO BE USED IN OTHER SECTIONS OF AIR FORCE ONE - NOTICE THE "AIR FORCE ONE" INCRIPTION ON THE RIM OF THE PLATE AT 6 O'CLOCK AND THE PRESIDENTIAL SEAL AT 12 O'CLOCK
This dinnerware is much more distinctive. Within the gold rim, there is a wide cobalt blue band bearing gold stars. The cobalt color signifies that this china was for Presidential usage. The pieces also incorporate the inscription "Air Force One" in gold, although the words blend into the design so subtly they are nearly unnoticeable. In addition, the detailing on this china looks & feels slightly raised, giving the dishes a 3-dimensional appearance.
This Bush #1 Air Force China, with the cobalt blue band, manufactured by Pickard China of Chicago, was intended for use in the forward cabin only – where the President himself and key aids such as cabinet secretaries ride. The press and others seated in the rear cabin were served on less elegant china. Interestingly, in 2015, President and First Lady Obama chose Pickard to design and manufacture their Official White House China – the first time Pickard had ever been honored in that way.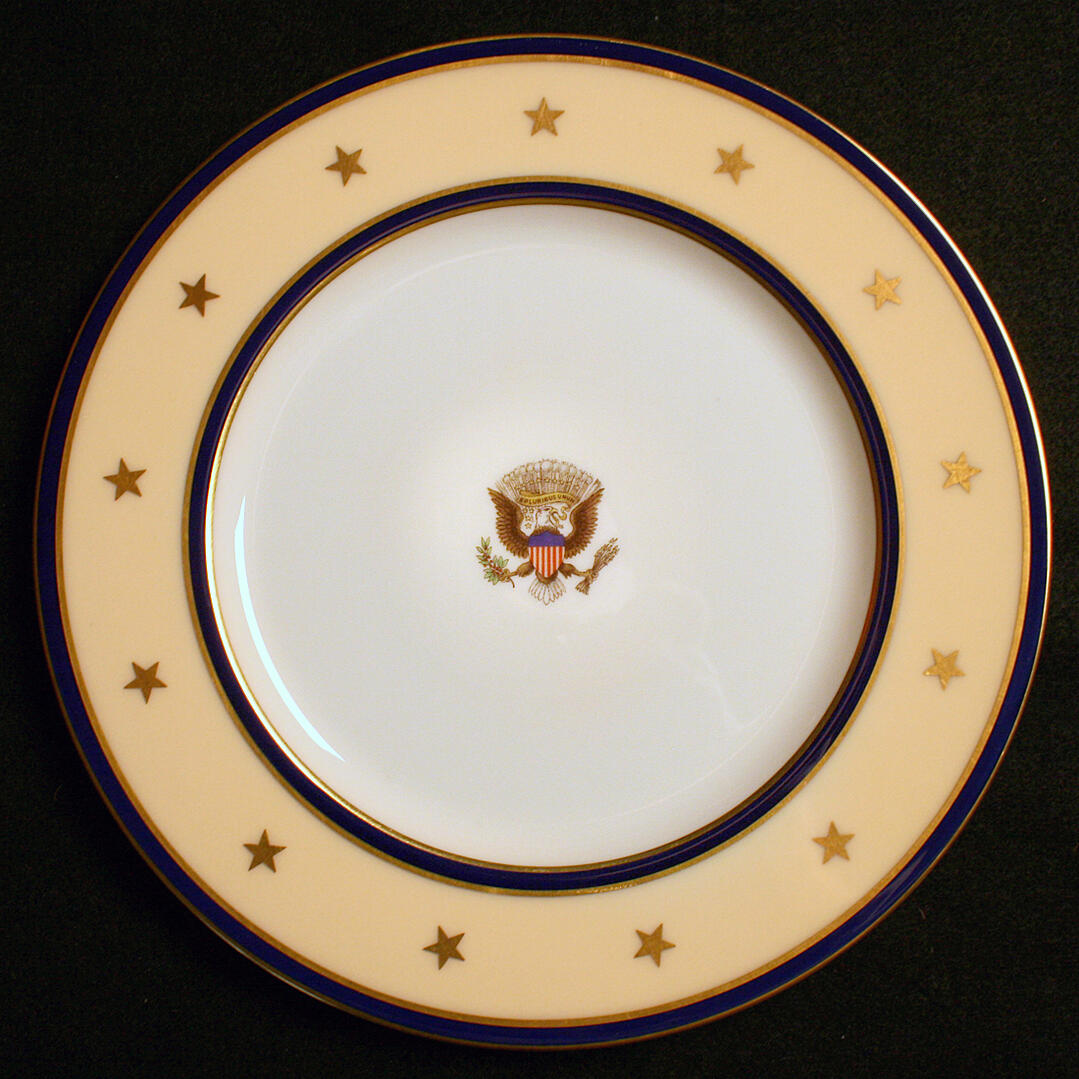 FRANKLIN D. ROOSEVELT ORDERED THIS HANDSOME LENOX SERVICE PLATE AND OTHER PIECES FOR USE ON THE USS WILLIAMSBURG. SADLY, F.D.R.'S UNTIMELY DEATH ON APRIL 12,1945 MEANT HE NEVER GOT TO SEE OR USE THIS CHINA. HARRY S. TRUMAN USED THIS CHINA ON THE USS WILLIAMSBURG. THE CHINA WAS LATER SENT TO CAMP DAVID - PART OF THE RALEIGH DeGEER AMYX COLLECTION
Just as Air Force One China has always been different from White House China, Presidents have also used different dinnerware at the Camp David retreat. Although presidents have sometimes entertained international dignitaries including heads of state at Camp David, this china is never considered to be Official White House China. However, the first china used at Camp David was indeed Presidential, having been used by Harry S. Truman on the USS Williamsburg. The Williamsburg had served as the official Presidential yacht, but when it was decommissioned, the lovely Lenox china was saved and transferred to Camp David.
RALEIGH DeGEER AMYX - HISTORIAN AND COLLECTOR
World renowned collector Raleigh DeGeer Amyx has acquired a remarkable number of scarce or rare pieces of official White House China. Mr. Amyx's passion for American historical artifacts has been his sole focus for nearly 40 years. Mr. Amyx's collection is the largest privately-owned collection of extremely high-quality, as well as the rarest, Official White House China and Presidential China in the world. If you would like to engage in a discussion with Mr. Amyx about White House China, please contact him through the button below.