UNIQUE AND STUNNING 1879 RUTHERFORD B. HAYES SOUP BOWL
PART OF THE RALEIGH DeGEER AMYX COLLECTION
When we think of a set of china, we mentally picture the different pieces, each with its own identifiable shape and size. There may be some variation from one collection to another, and certainly the decoration can vary tremendously. However, when it comes to distinctive design and decoration, the Rutherford B. Hayes Official White House China is in a class by itself.
As one of the nation's premier collectors of Official White House China, Raleigh DeGeer Amyx owns several very rare pieces from the original Hayes service, ordered from Haviland & Co. in 1879. One is a soup bowl. Like all the pieces in this exceptional collection, the Hayes soup bowl is a surprise.
ELEGANT HAND-PAINTED DETAILS - 1879 HAYES SOUP BOWL

Whereas soup bowls are generally deep, the Hayes soup bowl is quite shallow – only about 1.75" deep. But it is 9" wide – an unusual decagon shape for a soup bowl. All the pieces in the Hayes White House China collection have unusual shapes, each designed to fulfill its food service function but also to frame and highlight its decoration. The shallow soup bowl's broad, flat bottom provides greater surface area for its exquisite artwork. This particular soup bowl depicts a campfire scene along the Mississippi River. (You can even see a steamboat in the background.)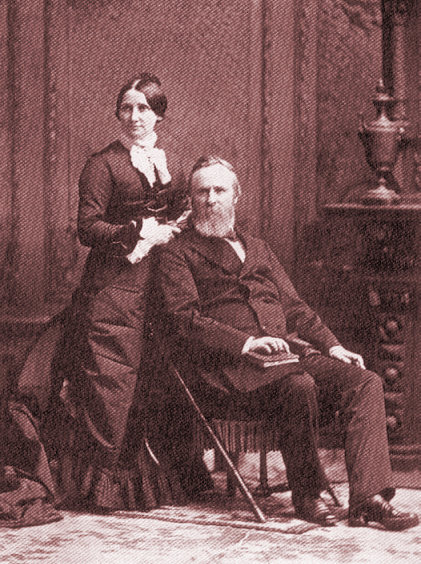 RUTHERFORD B. HAYES AND LUCY WEBB HAYES
SEE MORE WHITE HOUSE CHINA HERE
The Hayes china was a collaboration between two Theodores. Theodore R. Davis was a famous illustrator who worked for Harper's Weekly, enlisted by his friend Theodore Haviland to provide original artwork of American flora and fauna for the White House China ordered by President Hayes and his wife. Davis created 130 designs in all, which were then reproduced – individually hand-painted – onto the various china pieces.
THEODORE R. DAVIS, AN EXTREMELY GIFTED ARTIST
Davis' designs were so unusual, some of the Hayes White House China was actually patented. (Only one or two later Presidential China collections carry this distinction.) According to the US Patent and Trademark Office, "The first service was patented at the height of the gilded age in the Victorian era, when a show of excess was a show of wealth, power and stature. It was a time when the White House was decorated in high Victorian fashion." Curiously, the shallow soup bowl was not among the designs covered under Pat. No. D11,932 -- only a platter and a dozen round plates.
THEODORE HAVILAND, TALENTED MANUFACTURER OF ELEGANT PORCELAIN FROM LIMOGES, FRANCE
The Hayes soup bowl that now resides in the Raleigh DeGeer Amyx Collection can be seen on his website, but as Mr. Amyx notes, the unusual shape is very difficult to photograph. "It is a completely different revelation in person," he says.
On the verso are markings that indicate the bowl was made by Haviland & Co., Limoges, with the distinctive 1879 designation. Another mark states, "Fabriqué par Haviland & Co. d'après les dessins de" (produced by Haviland after the drawings of), followed by the signature of Theo. R. Davis. These markings authenticate the soup bowl as being from the original 1879 Hayes order.
UNUSUAL RAISED BOTTOM OF THE HAYES SOUP BOWL AND THE RARE 1879 VERSO
Perhaps the most unusual aspect of the verso, however, is the 10-spoke asterisk-like star that forms a raised foot for the bowl. Mr. Amyx says he does not know for certain why the piece was designed this way, but given the bowl's broad, shallow configuration, one might speculate that the raised foot helped protect the table underneath from the soup's heat.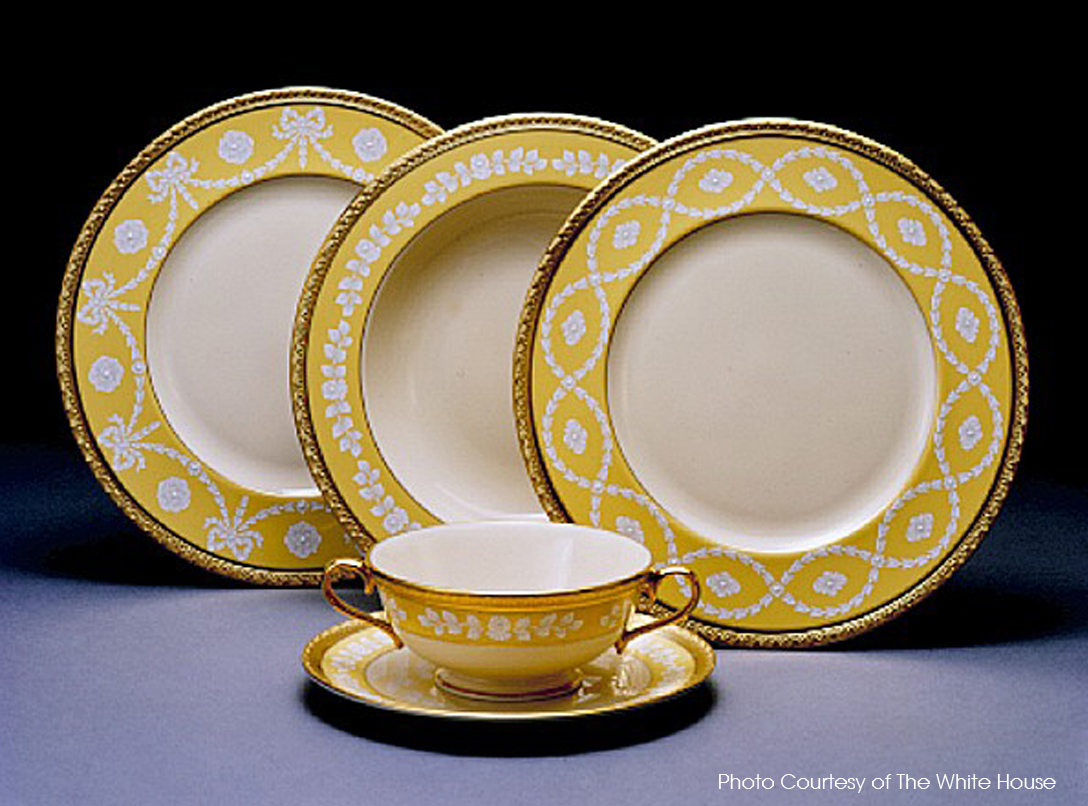 RARE BILL CLINTON OFFICIAL WHITE HOUSE CHINA DOUBLE HANDLED CREAM SOUP AND SAUCER - PART OF THE RALEIGH DeGEER AMYX COLLECTION
Raleigh DeGeer Amyx says that the longer he has collected Official White House China, the more value he has come to see in unusual pieces – shapes, etc. These pieces are more rare because there were so few made compared to essential pieces such as plates and cups. Besides the Hayes soup bowl, other examples of unique pieces in the Amyx Collection include the very precious Lincoln egg cup, one of just 24 ever produced, and the handsome double-handled cream soup and saucer from the Clinton service.

EXTREMELY RARE LINCOLN OFFICIAL WHITE HOUSE CHINA EGG CUP - PART OF THE RALEIGH DeGEER AMYX COLLECTION
RALEIGH DeGEER AMYX - IMPOSING HISTORIAN & COLLECTOR
Distinguished historian and collector Raleigh DeGeer Amyx has acquired a remarkable number of scarce or rare pieces of official White House China. Mr. Amyx's passion for American historical artifacts has been his sole focus for nearly 40 years. Mr. Amyx's collection is the largest privately-owned collection of extremely high-quality, as well as the rarest, Official White House China and Presidential China in the world. If you would like to engage in a discussion with Mr. Amyx about White House China, please contact him through the button below.