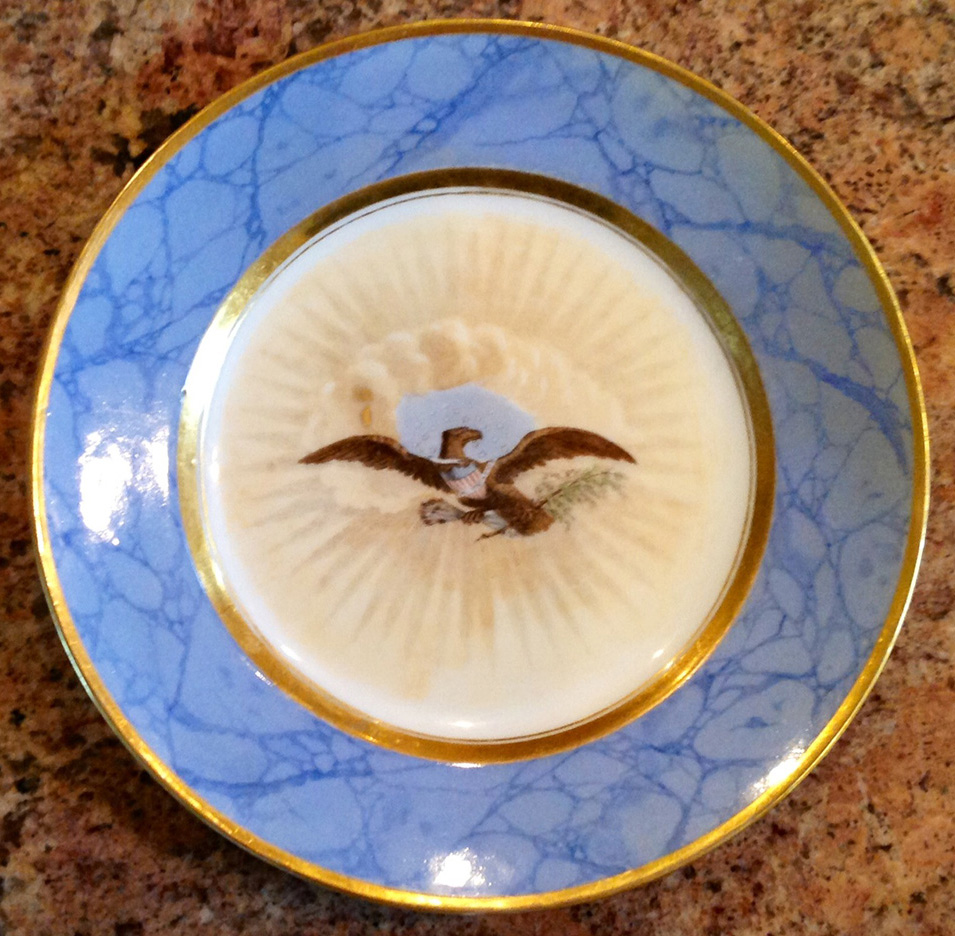 IMPRESSIVE EXAMPLE OF A PRISTINE DESSERT PLATE FROM THE 1820 JAMES MONROE OFFICIAL WHITE HOUSE CHINA - PART OF THE RALEIGH DeGEER AMYX COLLECTION
What do experienced collectors look for when considering whether or not to purchase a piece of White House China? Collecting anything of value is an art as well as a science, so some of the clues can be subtle. Condition is an obvious factor – if a piece is chipped, cracked, scratched, or literally in pieces, it is not as desirable as a piece that is pristine.
RALEIGH DeGEER AMYX AND GRANT QUERTERMOUS, THE ASSISTANT CURATOR OF THE JAMES MADISON MONTPELIER HOME, MAKE A CONCENTRATED STUDY OF HISTORIC DISCREPANCIES IN THE CALLIGRAPHY ON ONE OF MADISON'S 1806 SERVING DISHES - PART OF THE RALEIGH DeGEER AMYX COLELCTION
When it comes to White House China, markings can be critical. With meticulous research and experience over time, you can conjure up a mental image of the piece, front and back, so you know exactly what to expect when you see it. It takes extensive study to know what to look for. Renowned White House China collector Raleigh DeGeer Amyx says collectors are like performers. In his case, after more than three decades of collecting Presidential China, he has finally gotten to the equivalent of Carnegie Hall and has been able to take a well-deserved bow.
EXAMPLE OF A VERSO MARKING ON THE BACK OF A DINNER PLATE FROM THE 1934 FRANKLIN D. ROOSEVELT OFFICIAL WHITE HOUSE CHINA COLLECTION - PART OF THE RALEIGH DeGEER AMYX COLLECTION
He says, "One of the best ways to learn about White House China is to invest and buy, even though you may not make the best choices at first." He also recommends studying what you buy in detail - every detail, so you know as much as possible about the piece itself and its history. The information you glean will make up for any potential overspending. In essence, you're paying your dues to become better educated as a collector. Not to worry, though, you'll likely not overspend on an authentic piece of Presidential or White House China. Don't be overly afraid.

Eventually, you can develop a keen eye, to quickly detect if a piece is authentic. Some of those triggers are subjective, again based on experience. An authentic piece looks "right" to the eye and feels "right" to the hand. For example, some 25 years ago, Mr. Amyx purchased a plate at an auction, sight unseen. He based his decision to buy on the auction house's assertion that this was a piece of Lincoln Presidential China. But when he received the plate, he felt it was not from Lincoln's, or any President's White House China.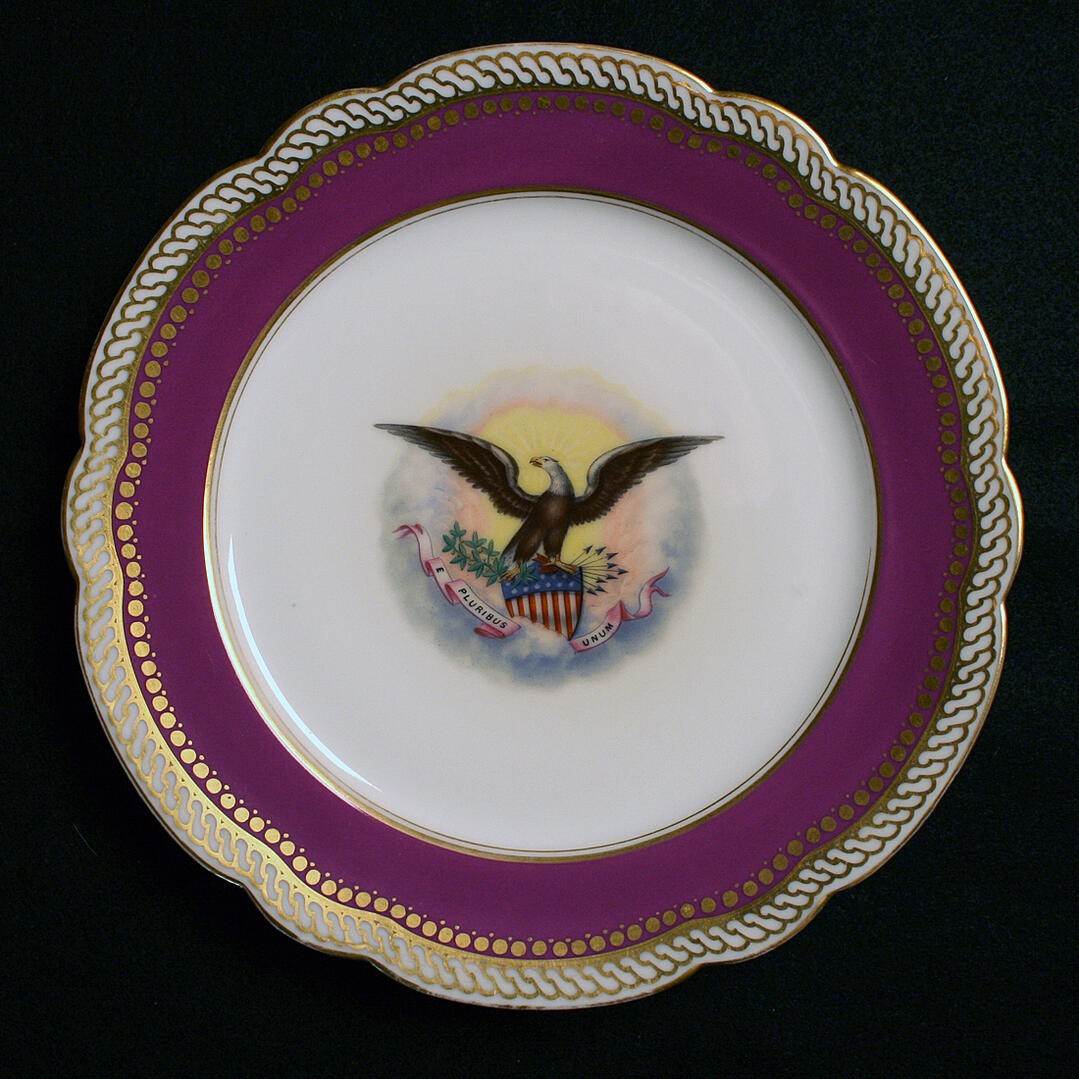 REGAL NEAR PRISTINE STATE DINNER PLATE FROM THE 1861 ABRAHAM LINCOLN OFFICIAL WHITE HOUSE CHINA - PART OF THE RALEIGH DeGEER AMYX COLLECTION
Further investigation revealed Mr. Amyx was right on the money. His sense that the plate was not as advertised was correct. He was able to return the plate and receive a refund within 1 week of making the purchase.
Interestingly, the man who assisted him in his investigation was William Allman, then an assistant curator at the White House, and is now the Head Curator. Mr. Allman, a true professional, will be retiring this summer, but Mr. Amyx has no plans to retire from collecting.
One of the most important points, is that any new buyer of Presidential or White House China should locate an experienced and reputable seller. With their guidance, whatever sold is guaranteed and highly unlikely to be anything but exactly what you had hoped for.
RALEIGH DeGEER AMYX - HISTORIAN AND COLLECTOR
World renowned collector Raleigh DeGeer Amyx has acquired a remarkable number of scarce or rare pieces of official White House China. Mr. Amyx's passion for American historical artifacts has been his sole focus for nearly 40 years. Mr. Amyx's collection is the largest privately-owned collection of extremely high-quality, as well as the rarest, Official White House China and Presidential China in the world. If you would like to engage in a discussion with Mr. Amyx about White House China, please contact him through the button below.