The White House China Room in 1992
America's Executive Mansion houses two types of Official White House China – historical pieces dating back to our country's earliest days, and more modern collections still used to serve honored guests at formal state dinners.
Historic pieces are displayed in the China Room on the ground floor of the White House, where they can be viewed by members of the public who tour the White House. Few pieces remain of the earliest Presidential porcelain. Initial orders were small, and over time, dishes were either damaged or sold or given away as new Presidents took office and introduced their own china. Not until the 20th century was this practice of disposing of "extra" china prohibited by Congress. Since then, Official Presidential China should, ideally, either remain in the White House or be destroyed.
COLONEL THEODORE BINGHAM CIRCA 1900
Colonel Theodore Bingham is credited with establishing efforts to inventory and protect Presidential china collections. In 1897, he was appointed as the first officer in charge of public buildings and grounds, which included the White House and its publicly-owned contents. Having served as a military aide at American embassies in Europe, he knew that other countries took great care of their official artifacts. He was appalled to find no such practice here in the US, and he set about changing that.
ABBY GUNN BAKER - JOURNALIST AND AMATEUR HISTORIAN WHO WAS DEEPLY INVOLVED IN THE ACQUISITION AND PRESERVATION OF WHITE HOUSE CHINA
Col. Bingham reportedly told author Abby Gunn Baker (who later published an extensive book about White House China) that "if somebody does not [preserve historical china] pretty soon, there won't be any left to preserve."
FIRST LADY ELEANOR ROOSEVELT OFFICIALLY CREATED A WHITE HOUSE CHINA COLLECTION IN ORDER TO PRESERVE THESE GREAT HISTORICAL AMERICAN ARTIFACTS
Eleanor Roosevelt took up the cause when she became First Lady. She had two cabinets specially made to display past examples of Presidential china, so that visitors could view the pieces. The cabinets were installed on the east side of the White House, at the end of a ground floor corridor. Prior to Mrs. Roosevelt's effort, White House china not in use was stored in a basement crypt.
The White House does not reveal where present-day china is stored. There is a warehouse in Maryland where White House furnishings are stored. However, given its fragility and the fact that it is needed from time to time, it seems unlikely the porcelain is stored offsite.
HANDSOME WOODROW WILSON 1918 STATE SERVICE PLATE - PART OF THE RALEIGH DeGEER AMYX COLLECTION
According to the White House, Presidential china still in use includes:
Woodrow Wilson - 120 settings
Franklin D. Roosevelt - 120 settings
Harry Truman - 120 settings
Lyndon Johnson - 216 settings
Ronald Reagan - 220 settings
Bill Clinton - 300 settings
George W. Bush - 320 settings,
plus an informal service with 75 settings
Barack Obama - 320 place settings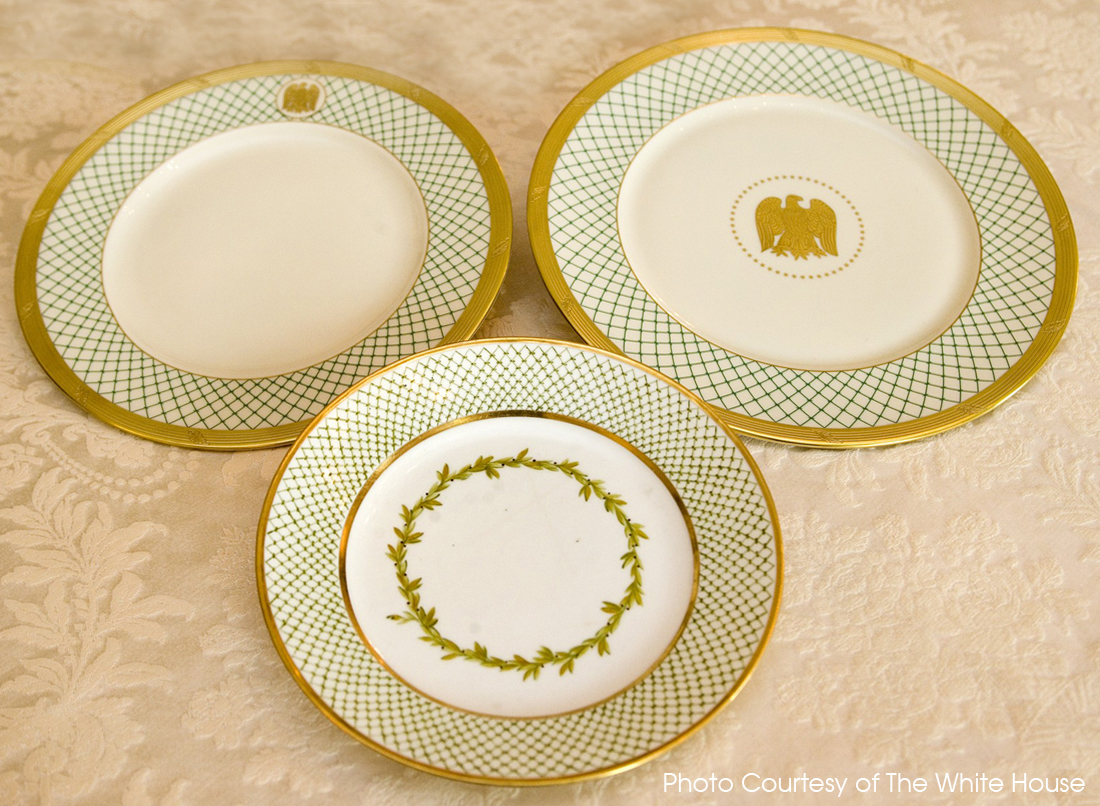 THE TIMELESS GEORGE W. BUSH OFFICIAL WHITE HOUSE CHINA HAS A VERSATILE PATTERN FIT FOR ALL SEASONS
Looking at the numbers of place settings reminds us that only in the most recent decades have Presidents and their First Ladies ordered very large collections of china. Our early Presidents lived in simpler, less populous times, and even something as special as a dinner honoring a foreign head of state was a far more intimate gathering than such an event might be today.
THE OBAMAS CHOSE KAILUA BLUE AS THE LEAD COLOR FOR THEIR OFFICIAL WHITE HOUSE CHINA
The reigning First Lady is responsible for planning and overseeing state dinners. Sometimes she has been known to mix and match patterns from various Presidential collections, either to augment a particular collection or, perhaps, to provide a more broadly historical overall setting. First Lady Michelle Obama actually cited this need for coordination when she talked about how she and her husband arrived at the color and pattern for their own Official White House China.
For her first official state dinner (honoring French President Emmanuel Macron), First Lady Melania Trump chose to use a combination of White House China from the Clinton and Bush collections.
RALEIGH DeGEER AMYX - IMPOSING HISTORIAN & COLLECTOR
Distinguished historian and collector Raleigh DeGeer Amyx has acquired a remarkable number of scarce or rare pieces of official White House China. Mr. Amyx's passion for American historical artifacts has been his sole focus for nearly 40 years. Mr. Amyx's collection is the largest privately-owned collection of extremely high-quality, as well as the rarest, Official White House China and Presidential China in the world. If you would like to engage in a discussion with Mr. Amyx about White House China, please contact him through the button below.