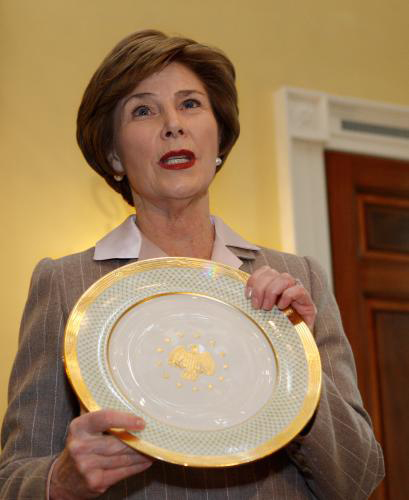 FIRST LADY LAURA BUSH AND HER ELEGANT SELECTION OF THE BUSH OFFICIAL WHITE HOUSE CHINA SERVICE PLATE
Usually when we write about a particular president's Official White House China, we consider it on its own merits. We talk about how that service reflects the history and politics of its time and/or the personalities and preferences of the President and First Lady. We don't usually compare one set of Presidential porcelain to another except, as an example, to note motifs that are similar. In this article, we will change our perspective, to compare the three most recent collections of White House China.
Let's look at the "vital statistics" first. President Clinton's Official White House China included 300 12-piece settings. The service was produced by Lenox at a cost of $500,000 and delivered in November 2000. The Official White House China ordered by George W. and Laura Bush was also made by Lenox and was delivered in January 2009. It included 320 14-piece place settings and also cost almost $500,000. The Obama Official White House China arrived in April 2015. It consisted of 320 11-pc settings and was produced by Pickard at a total cost of $360,000. All three of these Official White House China collections were purchased using private funds, not public funds.
STUNNING CLINTON OFFICIAL WHITE HOUSE CHINA SERVICE PLATE MAKES QUITE A STATEMENT TO COMMEMORATE THE 200TH ANNIVERSARY OF THE WHITE HOUSE
For most of the history of Official White House China, the common design motif has been an eagle, representing the President of the United States. The eagle's details have differed somewhat, as has its placement – sometimes in the center of each plate, sometimes as "12 o'clock" on the rim. President and Mrs. Clinton broke with this tradition. The design departure was dramatic, but this china served two purposes. It not only represents the Clinton administration, it commemorates the 200th anniversary of the White House as the Executive Mansion.
THE LOVELY BILL CLINTON OFFICIAL WHITE HOUSE CHINA SERVICE INCLUDES 300 TWELVE PIECE PLACE SETTINGS - PART OF THE RALEIGH DeGEER AMYX COLLECTION
So the Clinton Official White House China featured the White House instead of the Presidential emblem. The service plate, the dinner plate and the dessert plate are the only three Clinton pieces that have the White House motif. Various exterior and interior architectural elements are depicted on the different types of pieces within the stunning collection.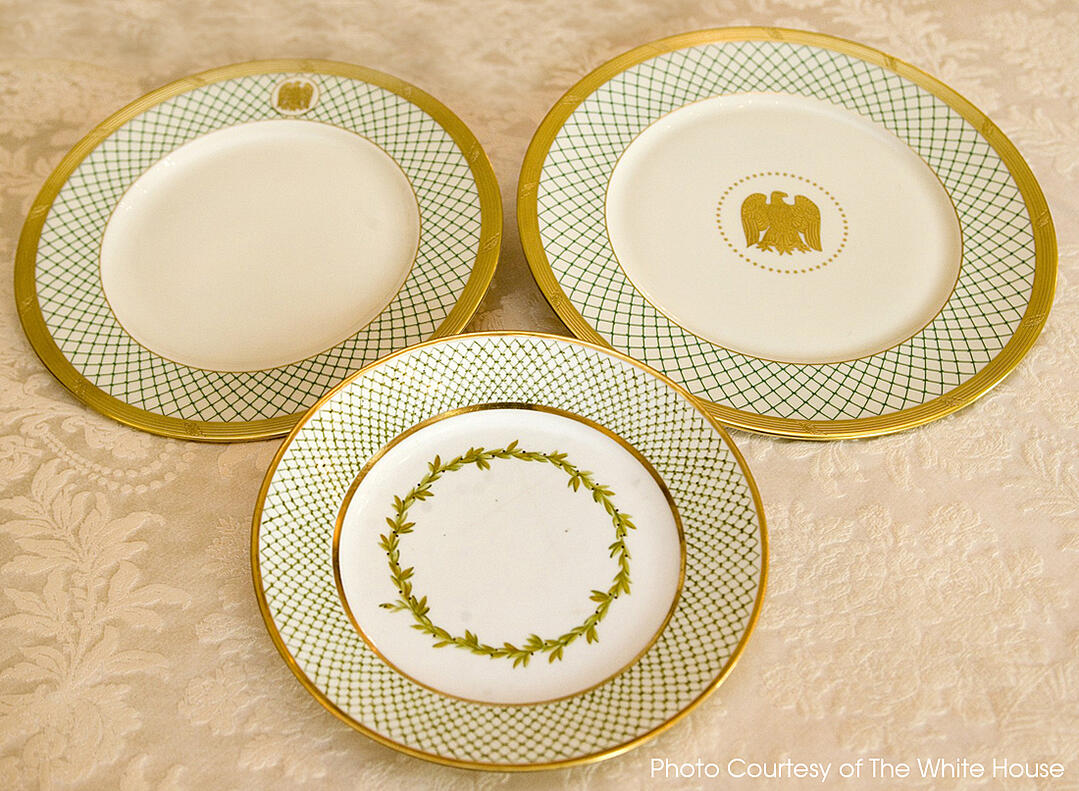 THE SOPHISTICATED BUSH OFFICIAL WHITE HOUSE CHINA PLATES - PART OF THE RALEIGH DeGEER AMYX COLLECTION
First Lady Laura Bush returned to tradition with the design she chose, using a soothing green color she felt would blend nicely with floral arrangements as well as Christmas decorations. The design incorporates a circle of laurel leaves reminiscent of James and Dolley Madison's Official White House China, and the eagle is front and center on the plate. With its basket-weave pattern and gold detailing, the service is quietly elegant and certainly Presidential.
A COMPLETE 11 PIECE OBAMA OFFICIAL WHITE HOUSE CHINA PLACE SETTING. THERE ARE 320 PLACE SETTINGS IN TOTAL.
Barack and Michelle Obama also departed from tradition, at least in part. They selected an unusual color they named Kailua Blue, to represent the waters of President Obama's native Hawaii. As a noted collector and distinguished historian on Official White House China, Raleigh DeGeer Amyx feels the Obamas missed the mark with their design, in two ways.
EXQUISITE OBAMA SERVICE PLATE WITH AN IMPOSING EAGLE MOTIF AND A STUNNING GOLD BORDER
1. The pale plate rims don't stand out on a white tablecloth, so they fail to make the statement, "I am Presidential china!" to foreign dignitaries and invited State Dinner guests.
2. Few of the collection's pieces actually carry the Presidential eagle on the front. The service plates do, as well as the dessert plates and the coffee cup. Mr. Amyx believes the choice of having a less Presidential design, as most all the Obama pieces do, will likely reduce the future value of Obama Official White House China and interest from White House China collectors.
THE UNVEILING OF THE OBAMA OFFICIAL WHITE HOUSE CHINA ON APRIL 23, 2015 IN THE EAST ROOM
Since the tenure of James and Dolley Madison, Presidents and their First Ladies have commissioned Official White House China to be used for state dinners. The porcelain was a functional necessity, and its elegance underscores the President's status to foreign visitors. Typically, new china was only ordered to fill in gaps or replace entire collections as needed. The Clinton collection commemorates a unique point in White House history. It was ordered as a complete service. Nine years later, George W. and Laura Bush ordered another complete set, and seven years later the Obamas did the same. Among them, Presidents Clinton, Bush and Obama ordered a combined total of nearly 12,000 pieces of White House China. An extraordinary number of pieces.
OUR 44TH PRESIDENT (BARACK OBAMA) BORROWS A CHINA PATTERN FROM OUR 4TH PRESIDENT (JAMES MADISON). THE FIRST TIME IN AMERICAN HISTORY THAT AN OFFICIAL WHITE HOUSE CHINA DINNER PLATE HAS NO COAT OF ARMS AND NO COLOR
One might think that oredering nearly 12,000 pieces of White House China in a 15 year period is excessive. The White House requires far more place settings these days because state dinners are far larger gatherings than decades or a century ago. But 12,000 pieces is a lot of porcelain by any standard. Nonetheless, these three most recent sets of china were ordered not out of need but for "presence." Official White House China is a First Lady's chance to leave her own legacy. And why not? The cost of Presidential china is covered by donations to the White House Historical Association, made by the President's friends and supporters.
RALEIGH DeGEER AMYX - IMPOSING HISTORIAN AND COLLECTOR
Distinguished historian and collector Raleigh DeGeer Amyx has acquired a remarkable number of scarce or rare pieces of official White House China. Mr. Amyx's passion for American historical artifacts has been his sole focus for nearly 40 years. Mr. Amyx's collection is the largest privately-owned collection of extremely high-quality, as well as the rarest, Official White House China and Presidential China in the world. If you would like to engage in a discussion with Mr. Amyx about White House China, please contact him through the button below.