BILL CLINTON OFFICIAL WHITE HOUSE CHINA SERVICE PLATE - COMMISSIONED FOR THE 200TH ANNIVERSARY OF THE WHITE HOUSE - PART OF THE RALEIGH DeGEER AMYX COLLECTION
One could easily agree that serving as President of the United States is the toughest job in the world. The decisions that must be made are mind-boggling. The ramifications affect millions here at home and around the globe. The stress is tremendous. It seems as if every President who enters office with dark hair emerges from their one or two terms with gray.
The factors that contribute to any given President's gray hair are the same factors that contribute to his legacy. These factors are determined by events as they unfold. But there is one Presidential legacy each Chief Executive can control: their Official White House China. So why do they wait until the end of their term to purchase a collection of porcelain that they may use only once or a few times (or not at all) before they leave office?
It wasn't always that way. Our nation's first Presidents had to supply all of their own furnishings, dinnerware included, for whatever home served as the official residence at the time. It wasn't until the British burned down the White House and most of its contents in 1814 that Congress formally appropriated funds to be used to furnish the Executive Mansion. So James Monroe became the first President to commission porcelain specifically for official use, rather than having to use his own china.
ELEGANT 1820 JAMES MONROE OFFICIAL WHITE HOUSE CHINA DESSERT PLATE - PART OF THE RALEIGH DeGEER AMYX COLLECTION
From Monroe's time forward, Presidents and their First Ladies continued to commission exceptionally lovely porcelain, as new china was needed to replace broken or damaged pieces. Each of these collections of Official White House China was painstakingly designed and produced to reflect the First Couple's personal taste as well as the status of the Presidency itself and the increasingly important status of the United States in the world. However, the collections were meant to be entirely practical. China was ordered because dishes were required to serve food at formal state dinners.
EXQUISITE BARACK OBAMA OFFICIAL WHITE HOUSE CHINA SERVICE PLATE WITH AN IMPOSING EAGLE MOTIF THAT SETS OFF THE BOLD WIDE GOLD BORDER
So, back to our initial question, if china is a necessity, why have modern-day Presidents waited so long to order new services?
Compared to early White House China, modern-day orders include about 10 times the number of place settings, along with related serving pieces. Losses occur over time, but incoming Presidents no longer need to order new china merely to ensure there is enough to serve state guests. But personally-chosen china collections remain a Presidential legacy – a permanent gift to future generations.
FIRST LADY NANCY REAGAN PERSONALLY APPROVED EACH AND EVERY SKETCH OF THE STUNNING REAGAN OFFICIAL WHITE HOUSE CHINA COLLECTION
Official White House China expert Raleigh DeGeer Amyx believes the timing change can be traced back to Nancy Reagan. She ordered a new set of porcelain in 1981, rather early in her husband's term as President. The china was very expensive, and the press lit into her. They complained about financial priorities, and some were personally unkind in their writings.
In truth, the Reagan White House China was not paid for by taxpayers. It was a gift to the White House and the nation in the Reagans' name, paid for by their friends and political associates via donations to the White House Historical Fund.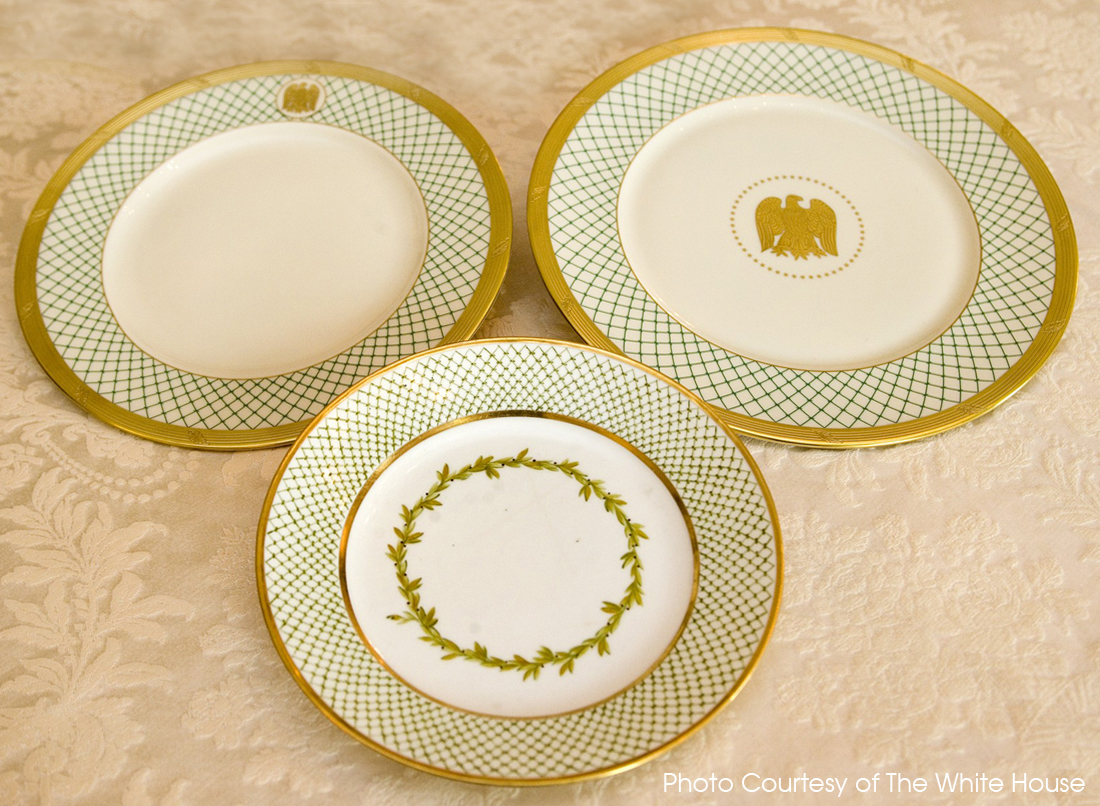 THE TIMELESS GEORGE W. BUSH OFFICIAL WHITE HOUSE CHINA PATTERN WAS DERIVED FROM THE PERSONAL FAMILY CHINA OF THE JAMES MADISON FAMILY
Since then, Presidents and their First Ladies have waited until they were close to leaving the White House to unveil new china. Mr. Amyx believes self-preservation is at work here, as no one wants to bring on themselves the kind of negative publicity Nancy Reagan received. Once a President-elect has been chosen, notes Mr. Amyx, all the attention focuses on them. The outgoing couple is less likely to be scrutinized as closely as before, offering a "friendlier" environment in which to show off new White House China.
The Clintons, George W. and Laura Bush, and the Obamas all waited until there were just a few weeks left in their term before unveiling their new legacy china. Newly-commissioned Official White House China continues to be tremendously expensive, but it also continues to be paid for by friends and associates of the outgoing administration, not taxpayers.
RALEIGH DeGEER AMYX - IMPOSING HISTORIAN & COLLECTOR
Distinguished historian and collector Raleigh DeGeer Amyx has acquired a remarkable number of scarce or rare pieces of official White House China. Mr. Amyx's passion for American historical artifacts has been his sole focus for nearly 40 years. Mr. Amyx's collection is the largest privately-owned collection of extremely high-quality, as well as the rarest, Official White House China and Presidential China in the world. If you would like to engage in a discussion with Mr. Amyx about White House China, please contact him through the button below.